Vietnamese Deputy Prime Minister visits RIKEN's Yokohama Campus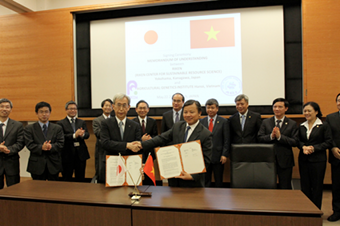 On May 22, 2013, a delegation from Vietnam headed by Deputy Prime Minister Nguyen Thien Nhan visited RIKEN's Yokohama Campus to attend a signing ceremony for a memorandum of agreement on research collaboration between the RIKEN Center for Sustainable Resource Science (CSRS) and the Agricultural Genetics Institute (AGI) of Vietnam.
The agreement, which will promote increased cooperation on research into molecular breeding of useful cassava varieties, was signed by CSRS Director Kazuo Shinozaki and AGI Director General Le Huy Ham, in the presence of Deputy Prime Minister Nguyen and RIKEN Executive Director Kenji Oeda.
The ceremony was also attended by CSRS Team Leader Motoaki Seki, Unit Leader Lam-Son Phan Tran, who is from Vietnam, and Vietnamese exchange students, vice-ministers from several Vietnamese ministries, and the Vietnamese ambassador to Japan.
Cassava root is an important food source in tropical regions. It grows rapidly, and is a good crop for areas with difficult growing conditions. Tapioca, a starch taken from the tuber, is used not only as a flavor but also as a raw material for bioethanol and as livestock feed. In recent years, research has focused on developing useful varieties of cassava that are pest-resistant, high-yield, or have high starch content. To make this possible, there is a pressing need for genetic analysis, the collection of information on breeding, and the creation of new varieties using leading-edge technologies.