Green light for launch of clinical research using donor iPS cells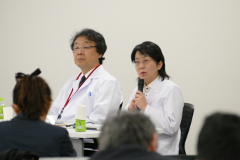 On February 6, a press conference was held in Kobe to announce the launch of a clinical research project aimed at establishing an induced pluripotent stem cell (iPSC)-based treatment for wet-type age-related macular degeneration, which has been reviewed and assessed by all required Japanese regulatory bodies.
The project will be led by Yasuo Kurimoto and Masayo Takahashi of Kobe City Medical Center General Hospital, and Osaka University's Graduate School of Medicine/ Faculty of Medicine, and will be conducted in collaboration with the RIKEN Center for Developmental Biology (CDB) and Kyoto University's Center for iPS Cell Research and Application (CiRA). Takahashi is also Project Leader of the Laboratory for Retinal Regeneration at RIKEN CDB.
In the trials, patients will be transplanted with cell suspensions of retinal pigment epithelial (RPE) cells made from iPS cells generated from other donors and stockpiled by CiRA. The RPE cells, prepared at CDB, will be transplanted into patients at Kobe City Medical Center General Hospital and Osaka University Hospital.
The current plan is to conduct procedures on five patients, and the recruitment of patients will be restricted to residents of Japan.