RIKEN's global goals
RIKEN's strong international links will be expanded by new organizational commitments, says RIKEN Executive Director Motoko Kotani.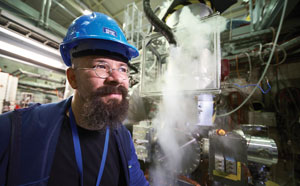 During my more than ten years at the forefront of Japan's international research network expansion, I have seen global agendas become more vital. The areas that need our attention most have been highlighted in the form of 17 Sustainable Development Goals (SDGs), adopted by the United Nations in 2015. These address the global challenges we face to achieve a better and more sustainable future. All will need to be addressed via coordinated multinational research efforts.
In 2016, the Japanese government began to look at how to act on these issues through research, as part of its Science, Technology and Innovation for SDGs (STI for SDGs) roadmap. In 2017, among the points outlined in the STI for SDGs basic promotion document, policy-makers stated that: "In order to enhance and develop the efforts of the STI for SDGs continually, it is essential to foster human resources who can connect science with politics, administrations, and various sectors in and outside Japan, with historical and international perspectives and geopolitical knowledge."
The Japanese government has made it clear that research institutions, including RIKEN, have a responsibility to reach out and continue to make the most of their strong international connections, not just with other academic organizations, but with many stakeholders.
As the executive director in charge of international affairs at RIKEN, I have often discussed Japan's excellent research reputation with other leaders around the world. In the past, however, the Japanese research community was not fully aware of its responsibility to become part of global conversations. Today, RIKEN is expected to play a central role in making these connections and to become a hub that gathers research talent from around the world.
RIKEN comes to this mission from a position of strength. In September 2018, about 20 percent of the almost 2,000 researchers at RIKEN hailed from foreign countries, which is a contrast compared to roughly five percent across Japan. Despite this, increasing organization-to-organization efforts are important to ensure RIKEN's voice continues to be a part of key global conversations, beyond the impressive input of its individual researchers.
Balancing top-down and bottom-up collaborations
My perspective on how to create a vibrant international community comes from more than a decade of experience working on building a successful, world-class research environment. During an intensification of research globalization that began in the mid-2000s, the Japanese government encouraged universities to cultivate highly autonomous and "globally visible" research hubs, one of which I lead.
One of the biggest challenge in creating these hubs is how to balance top-down and bottom-up approaches. Research collaborations should be based on bottom-up ideas and personal connections between individual researchers. However, a bottom-up approach on its own rarely translates into bigger and more multidisciplinary projects that bring long-term benefits to an entire organization.
Top-down, organization-to-organization collaborations have become the focus of many research administration efforts. However, I would also emphasize that this top-down approach is only effective when researchers already have strong ties with organizational partners. Our challenge, in the International Affairs Division, has been to identify bottom-up collaborations with the potential to apply or extend into other research areas and become fruitful, long-term organization-to-organization collaborations.
Strategic Research Partners
RIKEN has recently chosen to invest in a number of both top-down and bottom-up collaborations with existing overseas partners. This has been achieved though the International Collaborations with Strategic Research Partners initiative, a key pillar of RIKEN's mid- to long-term management plan, which runs from 2018 to 2025.
After an internal callout, four projects became the first to be adopted by the initiative in 2018.
The first will explore fundamental physics by using ultraprecision frequency measurements in collaboration with long-time collaborator, the Max Planck Society (MPG), and the National Metrology Institute of Germany (PBT). The MPG was an organizational inspiration when RIKEN was established, and has been a key research partner for more than 30 years.
The second project is aimed at strengthening international alliances in genome research between Japan, the United States and Europe. This will mean additional support for the Human Cell Atlas, a project aiming to understand the roughly 37 trillion cells of the human body. RIKEN will lead this global project's efforts in Asia through the work of its Single Cell Project.
The third initiative, a collaboration with the Cincinnati Children's Hospital in the US, will work on advanced organoid medical research. As RIKEN does not own a hospital, collaborating with major hospitals is vital to advance RIKEN's clinical research.
The fourth project will develop an innovative drug-delivery system using glycan pattern recognition and synthetic chemotherapy in vivo, with Kazan Federal University in Russia. The Russian university and RIKEN's biofunctional synthetic chemistry team have already achieved impressive results together, and we will support their moves to develop practical medical treatments from their findings.
Connecting with Asia, Europe, and the United States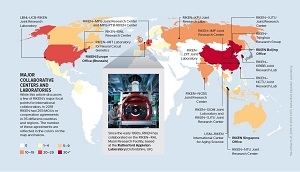 In recent years, we have focused on forging global collaborations, including with government-related bodies. While RIKEN already has 255 research cooperation agreements and memoranda of understanding, recently we increased our presence in Europe, the United States and China.
In addition to our facilities in the United States and United Kingdom, we have joint research centers or laboratories in China, Germany, India, Korea, Malaysia, Russia, Singapore and other countries.
RIKEN's international offices in Singapore, which opened in 2006, and Beijing, which opened in 2010, are identifying potential research partnerships and strengthening links with Asian government officials, as well as building an alumni network and helping to recruit promising young researchers from Asia.
China is vigorously developing science and technology infrastructure, and a number of Chinese organizations have already noted that RIKEN has experience building big facilities, such as the SPring-8 large synchrotron radiation facility and the K computer. A number of Chinese institutes have expressed a desire to cooperate with RIKEN on infrastructure construction and operation, which will likely be a fertile basis for future collaborations.
European intuitions are among our most valued partners, given their high productivity and research impact; their experience creating frameworks and rules; and the existence of various important initiatives within the European Union (EU), at both the national and regional level. A quarter of RIKEN's international researchers also came to us from Europe. It is therefore natural that our third overseas office was opened in the European quarter of Brussels in November 2018. The new office's mission is to contribute to enhancing RIKEN's research excellence and capacity. The Europe Office is working to raise RIKEN's visibility in Europe, through the promotion of collaborative research and innovation; facilitating of mutual access to resources; systematic collection and analysis of information on STI policies and programs; and the creation of strong links with European research institutions, EU and governmental organizations, funding organizations and other relevant bodies.
To reach out to some of these partners, we will host a symposium in Brussels for the first anniversary of the opening of the Europe Office, in December 2019.
In the United States, RIKEN's Interdisciplinary Theoretical and Mathematical Science (iTHEMS) program owns a laboratory within the well-known Lawrence Berkeley National Laboratory at the University of California, Berkeley. In the near future, we also hope to make space there available for RIKEN's other centers to enhance collaborations along the Pacific Rim.
Internationalizing Life and Work
RIKEN is also already well ahead in terms of the structures needed work with a global research cohort.
I believe RIKEN is an ideal place for young foreign researchers to begin their careers. It has an international and open atmosphere, in which researchers can pursue research excellence in a world-class environment, with strong support both in work and life. In this area, RIKEN leads the pack.
RIKEN also provides exciting opportunities for young scientists from all over the world during the crucial early years of their careers. For example, the Special Postdoctoral Researcher Program offers young scientists a three-year position and funding for an autonomous research project under the direction of a RIKEN laboratory head. RIKEN also accepts non-Japanese PhD candidates as International Program Associates (IPA) through collaborations with partner universities. IPAs are doctoral candidates attending a Japanese or overseas graduate school at the partner university, who also conduct research at RIKEN under the supervision of RIKEN scientists as part of the process of obtaining their PhD. RIKEN has also recently set up theRIKEN Hakubi Fellows Program, which offers exceptionally talented junior principal investigators positions for a maximum of seven years, and the Kato Sechi Program for women who are outstanding researchers. Ensuring career opportunities at this level will be important for both young researchers and also for the continued development of science and technology research networks into the future.
Finally, to support the researchers who come to Japan from elsewhere, RIKEN has developed strong family, language and cultural support: health insurance is covered; English-speaking childcare facilities have been set up around Japan; and an international secondary school is located near the main campus in Wako. Most importantly, researchers themselves have much to gain from RIKEN's scientific cohort and cutting-edge equipment, and will benefit from the ample opportunities for promotion.
We are always looking to further expand our network, so please get in contact with us to discuss future collaborations.
References
About the Researcher
Motoko Kotani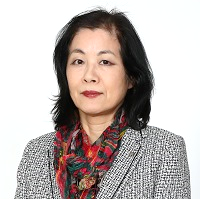 Motoko Kotani has been executive director for international affairs since 2017. She has a doctorate in mathematics. She became associate professor at the Mathematical Institute at Tohoku University in 1999 and then a professor in 2004. Since 2012, she has been Director for the WPI Advanced Institute for Materials Research at Tohoku University. She is also an executive member of the Japanese government's Council for Science, Technology and Innovation.