RIKEN Center for Advanced Intelligence Project

Medical Image Analysis Team

Team Leader: Issei Sato (Ph.D.)
Research Summary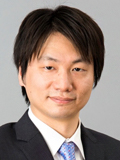 Our goal is to develop machine learning system that analyzes medical data, e.g, medical images, and assists medical diagnosis. We also study the fusion area of machine learning and measuring equipment and develop innovative micro-scale analytical systems such as single cell analysis.
Main Research Fields
Related Research Fields
Research Subjects
Machine leaning
Medical image analysis
Single cell analysis
Selected Publications
Papers with an asterisk(*) are based on research conducted outside of RIKEN.
1.

Nakao T, Hanaoka S, Nomura Y, Sato I, Nemoto M, Miki S, Maeda E, Yoshikawa T, Hayashi N, Abe O "Deep neural network-based computer-assisted detection of cerebral aneurysms in MR angiography."
J Magn Reson Imaging. 2018 Apr;47(4):948-953. doi: 10.1002/jmri.25842. Epub 2017 Aug 24.

2.

*Ryosuke Kamesawa, Issei Sato, Shouhei Hanaoka, Yukihiro Nomura, Mitsutaka Nemoto, Naoto Hayashi, Masashi Sugiyama.:
"Lung lesion detection in FDG-PET/CT with Gaussian process regression"
Proc. SPIE, 10134, 10134 - 10134 - 7 (2017).

3.

*Keiko Sasada, Noriko Yamamoto, Hiroki Masuda, Yoko Tanaka, Ayako Ishihara, Yasushi Takamatsu, Yutaka Yatomi, Waichiro Katsuda, Issei Sato, Hirotaka Matsui "Inter-observer variance and the need for standardization in the morphological classification of myelodysplastic syndrome"
Leukemia Research Volume 69, June 2018, Pages 54-59
Related Links
Lab Members
Principal investigator
Issei Sato

Team Leader
Core members
Fumiko Kaswasaki

Research Scientist

Takahiro Mimori

Research Scientist

Yuka Mori

Technical Scientist

Masashi Ugawa

Technical Staff I
Contact Information
Hongo, Bunkyo-ku, Tokyo 7-3-1 The University of Tokyo School of Science, Building No. 7 506
Email: sato [at] k.u-tokyo.ac.jp