RIKEN Center for Biosystems Dynamics Research

Laboratory for Advanced NMR Application and Development

Team Leader: Yoshitaka Ishii (Ph.D.)
Research Summary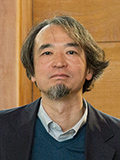 Based at the internationally renowned NMR research center at the RIKEN Yokohama Campus, we develop world-leading high-field NMR methodologies and conduct advanced application research. In particular, we will work on development of NMR methods to elucidate the structures and functions of biomolecules such as amyloid proteins, RNA, and nano-biomaterials, which are difficult to analyze using conventional structural biology methods. We also develop advanced NMR methods suited for ultra-high-field NMR magnets that are under development at RIKEN as part of a JST-MIRAI project. It is also within our scope to explore novel NMR applications and NMR analysis integrated with electron microscopy and other methods.
Main Research Fields
Interdisciplinary Science & Engineering
Related Research Fields
Engineering
Chemistry
Mathematical & Physical Sciences
Biological Sciences
Biology
Structural Biochemistry
Polymer/Fiber material
Applied Organic Chemistry
Keywords
High-field NMR
Physical chemistry
Structural Biology
Selected Publications
Papers with an asterisk(*) are based on research conducted outside of RIKEN.
1.

Ohyama, T., Takahashi, H., Sharma, H., Yamazaki, T., Gustincich, S., Ishii, Y., Carninci, P.:
"An NMR-based approach reveals the core structure of the functional domain of SINEUP lncRNAs"


Nucleic Acids Res.

48, 9346-9360 (2020)

2.

Koga, R., Yamamoto, M., Kosugi, T., Kobayashi, N., Sugiki, T., Fujiwara, T., Koga, N.:
"Robust folding of a de novo designed ideal protein even with most of the core mutated to valine"


Proc. Nat. Acad. Sci.

USA 117, 31149-31156 (2020)

3.

Matsunaga, T., Matsuda, I., Yamazaki T., Ishii, Y.:
"Decoherence optimized tilted-angle cross polarization: A novel concept for sensitivity-enhanced solid-state NMR using ultra-fast magic angle spinning"


J. Magn. Reson.

322, 106857 (2021)

4.

Xiao, Y., Matsuda, I., Inoue, M., Sasahara, T., Hoshi, M. and Ishii, Y.:
"NMR-based site-resolved profiling of β-amyloid misfolding reveals structural transitions from pathologically relevant spherical oligomer to fibril."


J. Biol. Chem.

295, 458-467 (2020).

5.

Oouchi, M., Ukawa, J., Ishii, Y. & Maeda, H.:
"Structural Analysis of the Terminal Groups in Commercial Hevea Natural Rubber by 2D-NMR with DOSY Filters and Multiple-WET Methods Using Ultrahigh-Field NMR."


Biomacromolecules

20, 1394-1400, (2019).

6.

Shi, X., Prasanna, C., Nagashima, T., Yamazaki, T., Pervushin, K., Nordenskiold, L.:
"Structure and Dynamics in the Nucleosome Revealed by Solid-State NMR."


Angew. Chem. Int. Ed. Engl.

57, 9734-9738.(2018)

7.

*Yoo, B., Xiao, Y., McElheny, D., and Ishii, Y.:
"E22G pathogenic mutation of β-amyloid (Aβ) enhances misfolding of Aβ40 by unexpected prion-like cross talk between Aβ42 and Aβ40."


J. Am. Chem. Soc.

140, 2781–2784 (2018)

8.

*Y. Xiao, B. Ma, D. McElheny, S. Parathasarathy, M. Hoshi, R. Nussinov, and Y. Ishii.:
"Aβ(1–42) fibril structure illuminates self-recognition and replication of amyloid in Alzheimer's disease."


Nat. Struct. Mol. Biol.

22, 499-505, (2015)

9.

*Parthasarathy, S., Inoue, M., Xiao, Y., Matsumura, Y., Nabeshima, Y., Hoshi, M. and Ishii, Y.:
"Structural Insight into an Alzheimer's Brain-Derived Spherical Assembly of Amyloid beta by Solid-State NMR"


J. Am. Chem. Soc.

137, 6480-6483, (2015).

10.

*Wickramasinghe, N.P., Parthasarathy, S., Jones, C.R., Bhardwaj, C., Long, F., Kotecha, M., Mehboob, S., Fung, L.W.M., Past, J., Samoson, A. & Ishii, Y.:
"Nanomole-scale protein solid-state NMR by breaking intrinsic H-1 T-1 boundaries."


Nature Methods

6, 215-218 (2009)
Related Links
Lab Members
Principal investigator
Yoshitaka Ishii

Team Leader
Core members
Naohiro Kobayashi

Senior Scientist

Takako Ohyama

Research Scientist

Tatsuya Matsunaga

Research Scientist

Ayesha Wijalath Pelige

Postdoctoral Researcher

Kyoko Seimiya

Technical Staff I
Careers
Contact Information
N108 West NMR Complex,
1-7-22 Suehiro-cho, Tsurumi-ku,
Yokohama City, Kanagawa,
230-0045, Japan
Email: yoshitaka.ishii [at] riken.jp