RIKEN Center for Biosystems Dynamics Research

Laboratory for Axial Pattern Dynamics

Team Leader: Hidehiko Inomata (Ph.D.)
Research Summary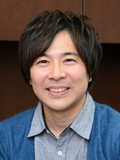 Developmental processes take place through the exchange of information by cells within the constrained spatial environment of the embryo. Such intercellular communication is mainly regulated by a morphogen gradient. In order to ensure that development based on a simple morphogen gradient is stably reproducible, cell-cell communications mediated by morphogens need to be robust against perturbations. In our lab, we address the analysis of morphogen dynamics and extracellular fluid dynamics to study how developmental robustness is maintained. We are also working to develop methods for controlling the shape of morphogen gradients to spatiotemporally regulate the morphogen-dependent pattern formations.
Main Research Fields
Related Research Fields
Mathematical & Physical Sciences
Biology
Keywords
Embryogenesis
Morphogen gradient
Fluid dynamics
Pattern formation
Selected Publications
Papers with an asterisk(*) are based on research conducted outside of RIKEN.
1.

H. Inomata, T. Shibata, T. Haraguchi and Y. Sasai:
"Scaling of dorsal-ventral patterning by embryo size-dependent degradation of Spemann's organizer signals."
Cell 153.1296-311 (2013)

2.

D. Kamiya, S. Banno, N.Sasai, M. Ohgushi, H. Inomata, K. Watanabe, M. Kawada, R. Yakura, H. Kiyonari, K. Nakao, LM. Jakt, S. Nishikawa and Y. Sasai:
"Intrinsic transition of embryonic stem-cell differentiation into neural progenitors."
Nature 470.503-9 (2011)

3.

A. Takai, H. Inomata, A. Arakawa, R. Yakura, M. Matsuo-Takasaki and Y. Sasai:
"Anterior neural development requires Del1, a matrix-associated protein that attenuates canonical Wnt signaling via the Ror2 pathway."
Development 137.3293-302 (2010)

4.

H. Inomata, T. Haraguchi and Y. Sasai:
"Robust stability of the embryonic axial pattern requires a secreted scaffold for chordin degradation."
Cell 134.854-65 (2008)

5.

A.Arakawa, M. Matsuo-Takasaki, A. Takai, H. Inomata, M. Matsumura, M. Ikeya, K. Takahashi, Y. Miyachi, N. Sasai and Y. Sasai:
"The secreted EGF-Discoidin factor xDel1 is essential for dorsal development of the Xenopus embryo."
Dev Biol 306.160-9 (2007)

6.

T. Onai, M. Matsuo-Takasaki, H. Inomata, T. Aramaki, M. Matsumura, R. Yakura, N. Sasai and Y. Sasai:
"XTsh3 is an essential enhancing factor of canonical Wnt signaling in Xenopus axial determination."
EMBO J 26.2350-60 (2007)

7.

*H. Inomata, Y. Nakamura, A. Hayakawa, H. Takata, T. Suzuki, K. Miyazawa and N. Kitamura:
"A scaffold protein JIP-1b enhances amyloid precursor protein phosphorylation by JNK and its association with kinesin light chain 1."
J Biol Chem 278.22946-55 (2003)
Related Links
Lab Members
Principal investigator
Hidehiko Inomata

Team Leader
Core members
Shinya Matsukawa

Research Scientist

Kaori Niimi

Technical Staff I

Setsuko Kanamura

Technical Staff I
Contact Information
4F, RIKEN BDR Developmental Biology Bldg.C,
2-2-3 Minatojima-minamimachi, Chuo-ku,
Kobe, Hyogo
650-0047 Japan
Email: hideino [at] cdb.riken.jp