RIKEN Center for Biosystems Dynamics Research

Laboratory for Molecular and Cellular Dynamics

Team Leader: Yuko Kiyosue (Ph.D.)
Research Summary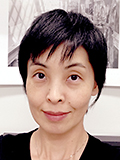 Light microscopy that allows to visualize the biological processes at the cellular and molecular level, is an essential tool in modern biology research. By introducing the latest light microscopy techniques, our laboratory aims to contribute to human health enhancement and healthcare through the elucidation of the molecular mechanisms that control the intracellular machinery that drives the biological processes and development. We run common-use Light microscopy Facility offering high-spec light microscope products and image analysis software to the users inside and outside of RIKEN, and also we are conducting the development of new high-resolution microscopy techniques.
Main Research Fields
Related Research Fields
Engineering
Molecular Biology & Genetics
Research Subjects
Functional analysis of intracellular machinery driving the life
Development of high-speed and high-resolution fluorescence microscopy techniques and 3D analysis of cellular dynamics
Selected Publications
Papers with an asterisk(*) are based on research conducted outside of RIKEN.
1.

Shimozawa T, Yamagata K, Kondo T, Hayashi S, Shitamukai A, Konno D, Matsuzaki F, Takayama J, Onami S, Nakayama H, Kosugi Y, Watanabe TM, Fujita K, Mimori-Kiyosue Y.:
"Improving spinning disk confocal microscopy by preventing pinhole cross-talk for intravital imaging."
Proc Natl Acad Sci U S A. 110 (9), 3399–3404 (2013)

2.

Nakamura S, Grigoriev I, Nogi T, Hamaji T, Cassimeris L, Mimori-Kiyosue Y.:
"Dissecting the nanoscale distributions and functions of microtubule-end-binding proteins EB1 and ch-TOG in interphase HeLa cells."
PLoS One. 7(12), e51442 (2012)

3.

Mimori-Kiyosue Y.:
"Shaping microtubules into diverse patterns: molecular connections for setting up both ends."
Cytoskeleton (Hoboken). 68(11), 603-18 (2011)

4.

Hotta A, Kawakatsu T, Nakatani T, Sato T, Matsui C, Sukezane T, Akagi T, Hamaji T, Grigoriev I, Akhmanova A, Takai Y, Mimori-Kiyosue Y.:
"Laminin-based cell adhesion anchors microtubule plus ends to the epithelial cell basal cortex through LL5alpha/beta."
J Cell Biol. 189(5), 901-17 (2010)

5.

*Matsui C, Kaieda S, Ikegami T, Mimori-Kiyosue Y.:
"Identification of a link between the SAMP repeats of adenomatous polyposis coli tumor suppressor and the Src homology 3 domain of DDEF."
J Biol Chem. 283(47), 33006-33020 (2008)

6.

*Mimori-Kiyosue Y, Grigoriev I, Lansbergen G, Sasaki H, Matsui C, Severin F, Galjart N, Grosveld F, Vorobjev I, Tsukita S, Akhmanova A.:
"CLASP1 and CLASP2 bind to EB1 and regulate microtubule plus-end dynamics at the cell cortex."
J Cell Biol. 168(1), 141-153 (2005)

7.

*Mimori-Kiyosue Y, Tsukita S.:
"Search-and-capture" of microtubules through plus-end-binding proteins (+TIPs)."
J Biochem (Tokyo).134(3), 321-326 (2003)

8.

*Mimori-Kiyosue Y, Tsukita S.:
"Where is APC going?"
J Cell Biol. 154(6), 1105-1109 (2001)

9.

*Mimori-Kiyosue Y, Shiina N, Tsukita S.:
"The dynamic behavior of the APC-binding protein EB1 on the distal ends of microtubules."
Curr Biol. 10(14), 865-868 (2000)

10.

*Mimori-Kiyosue Y, Shiina N, Tsukita S.:
"Adenomatous polyposis coli (APC) protein moves along microtubules and concentrates at their growing ends in epithelial cells."
J Cell Biol. 148(3), 505-518 (2000)
Related Links
Lab Members
Principal investigator
Yuko Kiyosue

Team Leader
Core members
Yoshihiro Kawasaki

Senior Scientist

Akiko Hayashi

Research Part-time Worker I
Contact Information
2-2-3 Minatojima-minamimachi, Chuo-ku
Kobe, Hyogo
650-0047 Japan
Email: yuko.kiyosue [at] riken.jp