RIKEN Center for Biosystems Dynamics Research

Laboratory for Cell Systems Control

Team Leader: Yuichi Taniguchi (Ph.D.)
Research Summary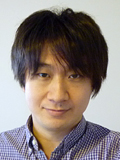 We are a group of scientists pursuing systems-level biology of single cells. We aim to develop new innovative technologies for comprehensive and exhaustive quantification of single cells that are consists of vast kinds of machinery such as DNA, gene expression products and chemicals. In parallel, utilizing recent advanced technologies, we challenge to analyze dynamic and systematic properties of single cells in a process of a variety of biological phenomena such as cell differentiation. In the end, we aim to find a general concept to understand complex cellular systems from a molecular basis.
Main Research Fields
Related Research Fields
Interdisciplinary Science & Engineering
Keywords
Single cell analysis
Single molecule and super resolution microscopy
Genome structure
Central dogma
System wide analysis
Selected Publications
Papers with an asterisk(*) are based on research conducted outside of RIKEN.
1.

Leclerc, S., Arntz, Y., Taniguchi, Y.:
"Proteome-wide quantification of labeling homogeneity at the single molecule level"
J. Vis. Exp. 146, e59199 (2019).

2.

Yoshida, Y., Taniguchi, Y.:
"Simultaneous single-cell measurements demonstrate a positive correlation between RNA copy number for
mitochondrial division and fusion genes and mitochondrial fragmentation"
Cytologia 84, 15-23 (2019)

3.

Ohno M, Ando T, Priest D.G., et.al.:
"Sub-nucleosomal genome structure reveals distinct nucleosome folding motifs"
Cell (2019) doi: 10.1016/j.cell.2018.12.014

4.

Leclerc S, Arntz Y, Taniguchi Y.:
"Extending Single Molecule Imaging to Proteome Analysis by Quantitation of Fluorescent Labeling Homogeneity in Complex Protein Samples"
Bioconjugate Chemistry (2018) doi: 10.1021/acs.bioconjchem.8b00226

5.

Ohno M, Priest DG, Taniguchi Y.:
"Nucleosome-level 3D organization of the genome"
Biochemical Society Transactions (2018) doi: 10.1042/BST20170388

6.

Priest D, Tanaka N, Tanaka Y, Taniguchi Y.:
"Micro-patterned agarose gel devices for single-cell high-throughput microscopy of E. coli cells"
Scientific Reports 7. 17750 (2017) doi: 10.1038/s41598-017-17544-2

7.

Taniguchi Y.:
"Autofluorescence imaging of tissue samples using super-high sensitivity fluorescence microscopy"
Global Imaging Insights 2. 1-2 (2017) doi: 10.15761/GII.1000135

8.

Taniguchi, Y.:
"Genome-Wide Analysis of Protein and mRNA Copy Numbers in Single Escherichia coli Cells with Single-Molecule Sensitivity"
Methods Mol. Biol. 1346, 55-67 (2015)

9.

Ohno, M., Karagiannis, P. & Taniguchi, Y.:
"Protein Expression Analyses at the Single Cell Level"
Molecules 19, 13932-13947 (2014)

10.

*Taniguchi, Y., Choi, P. J., Li, G., Chen, H., Babu, M., et al.:
"Quantifying E-coli Proteome and Transcriptome with Single-Molecule Sensitivity in Single Cells"
Science 329, 533-538 (2010)
Recent Research Results
Related Links
Lab Members
Principal investigator
Yuichi Taniguchi

Team Leader
Core members
Masae Ohno Johmura

Visiting Scientist

Soo Yeon Kim

Special Postdoctoral Researcher

Mayumi Ishida

Technical Staff I

Kaori Tsujimura

Technical Staff I

Binti Kamarulzaman Latiefa

Student Trainee

Shouko Ohara

Administrative Part-time Worker II

Yuriko Okuda

Assistant
Contact Information
6-2-3, Furuedai
Suita, Osaka
565-0874 JAPAN
Email: taniguchi [at] riken.jp