RIKEN Center for Biosystems Dynamics Research

Laboratory for Labeling Chemistry

Team Leader: Hisashi Doi (D.Sci.)
Research Summary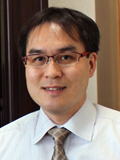 With the objective of applying the potentials of organic chemistry to life science, we seek to realize the new synthetic methodology of PET molecular probes by using organometallic catalysts such as Pd, Rh, and Cu, etc., as one of our main projects. Especially, we focus on the labeling methods by carbon-carbon bond formation which would provide chemical and metabolic stability of PET molecular probe in in vivo system to enhance the credibility of the PET imaging. In addition, our team is working on developing11C- or18F-labeling methods for biomolecules such as peptides, oligonucleotide, proteins, and antibodies. In addition, our team is responsible for production of PET drugs for human PET study in three institutions including Osaka City University Hospital.
Main Research Fields
Related Research Fields
Engineering
Biological Sciences
Medicine, Dentistry & Pharmacy
Keywords
PET imaging
Rapid chemical reaction
Organometallic chemistry
Synthesis of PET molecular probe
Drug candidate
Selected Publications
1.

Goto, M., Nishiyama, A., Yamaguchi, T., Watanabe, K., Fujii, K., Watanabe, Y., Doi, H.:
"Synthesis of 11C-labeled ubiquinone and ubiquinol via Pd0-mediated rapid

C

-[11C]methylation using [11C]methyl iodide and 39-demethyl-39-(pinacolboryl)ubiquinone"
J. Labelled Compd. Radiopharm. 62, 86–94 (2019).

2.

Doi, H., Kida, T., Nishino, K., Nakatsuji, M., Sakamoto, S., Shimizu, S., Teraoka, Y., Tamura, Y., Kataoka, Y., Inui, T.:
"Solubility-Improved 10-

O

-Substituted SN-38 Derivatives with Antitumor Activity"
ChemMedChem 12, 1715–1722 (2017).

3.

Doi, H., Sato, K., Shindou, H., Sumi, K., Koyama, H., Hosoya, T., Watanabe, Y., Ishii, S., Tsukada, H., Nakanishi, K., Suzuki, M.:
"Blood-Brain Barrier Permeability of Ginkgolide: Comparison of the Behavior of PET Probes 7α-[18F]Fluoro- and 10-

O

-

p

-[11C]Methylbenzyl Ginkgolide B in Monkey and Rat Brains"
Bioorg. Med. Chem. 24, 5148–5157 (2016).

4.

Doi, H., Mawatari, A., Kanazawa, M., Nozaki, S., Nomura, Y., Kitayoshi, T., Akimoto, K., Suzuki, M., Ninomiya, S., Watanabe, Y.:
"Synthesis of 11C-Labeled Thiamine and Fursultiamine for In Vivo Molecular Imaging of Vitamin B1 and Its Prodrug Using Positron Emission Tomography"
J. Org. Chem. 80, 6250–6258 (2015).

5.

Doi, H.:
"Pd-Mediated Rapid Cross-Coupling Using [11C]Methyl Iodide: Groundbreaking Labeling Methods in 11C Radiochemistry"
Special Issue; Bengt Långström, J. Label. Compd. Radiopharm. 58, 73–85 (2015)

6.

Doi, H., Goto, M., Suzuki, M.:
"Pd0-Mediated Rapid

C

-[18F]Fluoromethylation by the Cross-Coupling Reaction of a [18F]Fluoromethyl Halide with an Arylboronic Acid Ester: Novel Method for the Synthesis of a 18F-Labeled Molecular Probe for Positron Emission Tomography"
Bull. Chem. Soc. Jpn. 85, 1233–1238 (2012).

7.

Kuboyama, T., Nakahara, M., Yoshino, M., Cui, Y., Sako, T., Wada, Y., Imanishi, T., Obika, S., Watanabe, Y., Suzuki, M., Doi, H.:
"Stoichiometry-Focused 18F-Labeling of Alkyne-Substituted Oligodeoxynucleotides Using Azido([18F]fluoromethyl)benzenes by Cu-Catalyzed Huisgen Reaction"
Bioorg. Med. Chem., 19, 249–255 (2011).

8.

Doi, H., Ban, I., Nonoyama, A., Sumi, K., Kuang, C., Hosoya, T., Tsukada, H., Suzuki, M.:
"Palladium(0)-Mediated Rapid Methylation and Fluoromethylation on Carbon Frameworks by Reacting Methyl and Fluoromethyl Iodide with Aryl and Alkenyl Boronic Acid Esters Useful for the Synthesis of [11C]CH3—C- and [18F]FCH2—C-Containing PET Tracers"
Chem. Eur. J., 15, 4165–4171 (2009).

9.

*Doi, H., Barletta, J., Suzuki, M., Noyori, R., Watanabe, Y., Långström, B.:
"Synthesis of 11C-labelled

N,N'

-diphenylurea and ethyl phenylcarbamate by a rhodium-promoted carbonylation via [11C]isocyanatobenzene using phenyl azide and [11C]carbon monoxide"
Org. Biomol. Chem., 2, 3063–3066 (2004).

10.

*Suzuki, M., Doi, H., Björkman, M., Andersson, Y., Långström, B., Watanabe, Y., Noyori, R.:
"Rapid Coupling of Methyl Iodide with Aryltributylstannanes Mediated by Palladium(0) Complexes: A General Protocol for the Synthesis of 11CH3-Labeled PET Tracers."
Chem. Eur. J., 3, 2039–2042 (1997).
Related Links
Lab Members
Principal investigator
Hisashi Doi

Team Leader
Core members
Tatsuya Kida

Research Scientist

Shuhei Takatani

Research Scientist

Yuzuru Sato

Research Scientist

Wakiko Arakaki

Technical Staff I

Ami Igesaka

Visiting Technician

Kimiko Utsumi

Assistant

Nami Ikeda

Research Part-time Worker II
Contact Information
6-7-3 Minatojima-minamimachi, Chuo-ku, Kobe, Hyogo 650-0047, Japan
Tel: +81-(0)78-304-7130
Fax: +81-(0)78-304-7131
Email: hisashi.doi [at] riken.jp