RIKEN Center for Biosystems Dynamics Research

Laboratory for Organismal Patterning

Team Leader: Hiroshi Hamada (M.D., Ph.D.)
Research Summary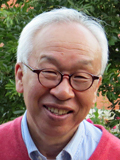 My lab studies how left-right asymmetries develop in the mouse embryo. In particular, we focus on two types of cilia that are required for left-right symmetry breaking: rotating cilia that generate leftward fluid flow, and immotile cilia that sense the fluid flow. We also study the role of maternal and paternal epigenetic regulators in embryonic and post-natal development. We address these questions by integrating live imaging, structural biology, fluid dynamics and mathematical modeling.
Main Research Fields
Related Research Fields
Medicine, Dentistry & Pharmacy
Keywords
left-right asymmetry
embryogenesis
cilia
Epigenetic modification of germ cell genomes
Aging of germ cells
Selected Publications
Papers with an asterisk(*) are based on research conducted outside of RIKEN.
1.

Takaoka, K., et al.:
"Both Nodal signaling and stochasticity select for prospective distal visceral endoderm in mouse embryos"
Nat Commun. Accepted.

2.

Minegishi K., et al.:
"A Wnt5 activity asymmetry and intercellular signaling polarize node cells for breaking left-right symmetry in the mouse embryo"
Dev. Cell 40:439-452 (2017)

3.

*Shinohara K., et al.:
"Absence of radial spokes in mouse node cilia is required for rotational movement but confers ultrastructural instability as a trade-off."
Dev Cell 35.236-246 (2015)

4.

*Dong, F., et al.:
"Pih1d3 is required for cytoplasmic preassembly of axonemal dynein in mouse sperm."
J. Cell. Biol. 204:203-213 (2014)

5.

*Takamatsu, A., et al.:
"Hydrodynamic phase synchronization in mouse node cilia"
Physical Review Letters.110:248107 (2014)

6.

*Nakamura T., et al.:
"Fluid flow and interlinked feedback loops establish left-right asymmetric decay of Cerl2 mRNA in the mouse embryo."
Nat Commun. 3.1322 (2012)

7.

*Yoshiba S., et al.:
"Cilia at the node of mouse embryos sense fluid flow for left-right determination via Pkd2."
Science 338.226-231 (2012)

8.

*Shinohara K., et al.:
"Two rotating cilia in the node cavity are sufficient to break left-right symmetry in the mouse embryo."
Nat Commun. 3.622 (2012)

9.

*Takaoka K., et al.:
"Origin and role of distal visceral endoderm, a group of cells that determines anterior-posterior polarity of the mouse embryo."
Nat Cell Biol 13. 743-752 (2011)

10.

*Hashimoto M., et al.:
"Planar polarization of the node cells determines the rotation axis of the node cilia."
Nat Cell Biol 12.170-176 (2010)
Recent Research Results
Related Links
Lab Members
Principal investigator
Hiroshi Hamada

Team Leader
Core members
Katsutoshi Mizuno

Research Scientist

Takahiro Ide

Research Scientist

Katsura Minegishi

Research Scientist

Natsumi Shimizu

Research Scientist

Masanori Miyanishi

Research Scientist

Wang Kyaw Twan

International Program Associate

XiaoRui Cai

Technical Staff I

Eriko Kajikawa

Technical Staff I

Yayoi Ikawa

Technical Staff I

Hiromi Nishimura

Technical Staff I
Contact Information
3F, RIKEN BDR Developmental Biology Bldg.C,
2-2-3 Minatojima-minamimachi, Chuo-ku
Kobe, Hyogo
650-0047 Japan