RIKEN BioResource Research Center

Technology and Development Team for Mammalian Genome Dynamics

Team Leader: Kuniya Abe (Ph.D.)
Research Summary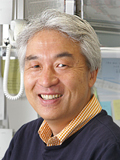 Aim of our team is to develop technologies and experimental tools/ resources for characterization of 'genotype, phenotype and epigenotype' of biological resources. Through these efforts, we would extend utilities of bioresources collected at RIKEN BRC. Based on these technologies and resources, we will establish analytical platform for analyses of dynamic nature of mammalian genome in response to changes in various environmental factors. Using this platform, we will be able to explore how environmental factors influence on development and growth of organisms, or on the onset of disease condition.
Main Research Fields
Molecular Biology & Genetics
Related Research Fields
Biology & Biochemistry
Plant & Animal Science
Research Subjects
Technology development for comprehensive analysis of epigenome of small number of cells.
Studies on genomic reprogramming and cell differentiation during mammalian development
Technology development for visualization and imaging analyses of biological phenomena
Selected Publications
Papers with an asterisk(*) are based on research conducted outside of RIKEN.
1.

*Sugimoto, M., Kondo, M., Koga, Y., Shiura, H., Ikeda, R., Hirose, M., Ogura, A., Murakami, A., Yoshiki, A., Chuva de Sousa Lopes, S., Abe, K.:
"A simple and robust method for establishing homogeneous mouse epiblast stem cell lines by Wnt inhibition."
Stem Cell Reports in press. (2015).

2.

Shiura, H., Okamoto, A. Sasaki, H. and Abe, K.:
"A novel technique for simultaneous visualization of specific DNA methylation and protein/RNA expression."
PLoS One. 9, e95750(2014)

3.

Ikeda, R., Shiura, H., Numata, K., Sugimoto, M., Kondo, M., Mise, N., Suzuki, M., Greally, J.M. and Abe, K.:
"Large, male germ cell-specific hypomethylated DNA domains with unique genomic and epigenomic features on the mouse X chromosome."
DNA Research 20, 549-565. (2013)

4.

*Maeda, I., Okamura, D., Tokitake, Y., Ikeda, M., Kawaguchi, H., Mise, N., Abe, K., Noce, T., Okuda, A. and Matsui, Y.:
"Max is a repressor of germ-cell-related gene expression in mouse embryonic stem cells."
Nature communications 4, 1754. (2013)

5.

Shiura, H., Ikeda, R., Lee, J., Sato, T., Ogonuki, N., Hirose, M., Ogura, A., Ogawa, T., Abe, K.: "Generation of a novel germline stem cell line expressing a germline-specific reporter in the mouse."
genesis 51, 498-505. (2013).

6.

*Semba, K., Araki, K., Matsumoto, K.-I., Suda, H., Ando, T. Sei, A., Mizuta, H., Takagi, K., Nakahara, M., Muta, M., Yamada, G., Nakagata, N., Iida, A., Ikegawa, Y., Araki, M., Abe, K. and Yamamura, K.:
"The ectopic expression of Ptf1a induces spinal defects, urogenital defects and anorectal malformations in Danforth's short tail mice."
PLoS Genet. 9, e1003204. (2012)

7.

Sugimoto, M., Kondo, M., Hirose, M., Suzuki, M., Mekada, K., Abe, T., Kiyonari, H., Ogura, A., Takagi, N., Artzt, K. and Abe, K.:
"Molecular identification of tw5: Vps52 promotes pluripotential cell differentiation through cell-cell interactions."
Cell Reports 2, 1363-1374. (2012).

8.

*Okamura, D., Maeda, I., Taniguchi, H., Tokitake, Y., Ikeda, M., Ozato, K., Mise, N., Abe, K., Noce, T., Belmonte, J.C.I., Matsui, Y.:
"Cell-cycle gene-specific control of transcription has a critical role in proliferation of primordial germ cells."
Genes Dev. 26, 2477-2482. (2012).

9.

Cao, L, Kobayakawa, S., Yoshiki, A., Abe, K.:
"High resolution intravital imaging of subcellular structures of mouse abdominal organs using a microstage device."
PLoS One e33876. (2012)

10.

Kasahara, T., Abe, K., Mekada, K., Yoshiki, A., Kato, T.:
"Genetic variation of melatonin productivity in laboratory mice under domestication."
Proc. Natl. Acad. Sci, USA 107, 6412-6417. (2010)
Recent Research Results
Related Links
Lab Members
Principal investigator
Kuniya Abe

Team Leader
Core members
Yuhki Tada

Postdoctoral Researcher

Maisarah Ab Samad

International Program Associate

Yumiko Koga

Technical Staff II

Dooseon Cho

Technical Staff II
Contact Information
503 BioResource Center Main Building, 3-1-1 Koyadai, Tsukuba, Ibaraki 305-0074, Japan
Tel: +81-(0)29-836-9198
Fax: +81-(0)29-836-9199
Email: abe [at] rtc.riken.jp