RIKEN Baton Zone Program

Glass Molding and Optics Simulation Laboratory

Team Leader: Eiji Ishiyama
Deputy Team Leader: Yutaka Yamagata (D.Eng.)
Research Summary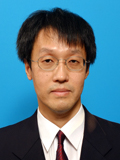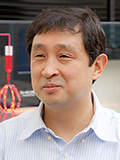 Glass molding is a key technology of manufacturing for optical devices, but trial-and-error for finding a best molding condition is a problem.
We aim to solve it by simulation.
Based on an elastic-plastic structural analysis solver developed in RIKEN, we will develop a simulation code analyzing physical phenomena specific to glasses, as viscoelasticity or structural relaxation, measure physical properties of various optical glasses, cooperate with ray-tracing simulation, and realize a glass molding and optics simulation software for optics manufacturing.
[Integrated Collaborative Research with Integration Technology Co., Ltd.]
Main Research Fields
Interdisciplinary Science & Engineering
Related Research Fields
Mathematical & Physical Sciences
Engineering
Keywords
Numerical simulation
Glass / Liquid / Solution
Plastic forming / Shaping
Selected Publications
1.

Morita, S., Nishidate, Y., Nagata, T., Yamagata, Y., Teodosiu, C.:
"Ray-tracing simulation method using piecewise quadratic interpolant for aspheric optical systems"
Applied Optics 49(18), 3442-3451 (2010).
Related Links
Lab Members
Principal investigator
Eiji Ishiyama

Team Leader
Core members
Yutaka Yamagata

Deputy Team Leader

Keiji Nakabayashi

Research Scientist

Hiroyoshi Funada

Visiting Scientist

Shinya Morita

Visiting Scientist

Kazuo Yamada

Visiting Scientist

Yuichi Takeyasu

Visiting Scientist
Contact Information
W414 Cooperation Center,
2-1 Hirosawa,
Wako, Saitama
351-0198, Japan
Email: eiji.ishiyama [at] riken.jp