RIKEN Baton Zone Program

RIKEN-KFU Translational Genomics Unit

Unit Leader: Oleg Gusev (Ph.D.)
Research Summary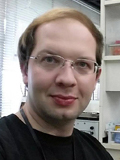 Modern technologies allow to combine data from thousands of sequenced genomes with sensitive methods of gene expression analysis to get new insights in mechanisms of gene regulation and to develop new diagnostic approaches for daily medical use. In our unit, we apply various methods of high-throughput RNA analysis and comparative genomics to reveal molecular background of diseases and aging-associated changes and to find new sensitive and universal molecular biomarkers for advanced diagnostics.
[Collaborative Research with Kazan Federal University, Russia]
Main Research Fields
Related Research Fields
Medicine, Dentistry & Pharmacy
Keywords
Genome science
RNA expression
Translational functional genomics
Biomimetics
Gene regulation of hypo metabolic processes and biomaterial preservation
Selected Publications
Papers with an asterisk(*) are based on research conducted outside of RIKEN.
1.

Mazin PV, Shagimardanova E, Kozlova O, Cherkasov A, Sutormin R, Stepanova VV, Stupnikov A, Logacheva M, Penin A, Sogame Y, Cornette R, Tokumoto S, Miyata Y, Kikawada T, Gelfand MS, Gusev O.:
"Cooption of heat shock regulatory system for anhydrobiosis in the sleeping chironomid Polypedilum vanderplanki."
Proc Natl Acad Sci U S A. 2018 Mar 6;115(10):E2477-E2486. doi: 10.1073/pnas. (2018).

2.

Lizio M, Deviatiiarov R, Nagai H, Galan L, Arner E, Itoh M, Lassmann T, Kasukawa T, Hasegawa A, Ros MA, Hayashizaki Y, Carninci P, Forrest ARR, Kawaji H, Gusev O, Sheng G.:
"Systematic analysis of transcription start sites in avian development."
PLoS Biol. 2017 Sep 5;15(9):e2002887. doi: 10.1371/journal.pbio.2002887 (2017).

3.

Deviatiiarov R, Lizio M, Gusev O.:
"Application of a CAGE Method to an Avian Development Study."
Methods Mol Biol. 2017;1650:101-109. doi: 10.1007/978-1-4939-7216-6_6 (2017).

4.

Shagimardanova, E., Shigapova, L., Gusev, O., Nikitin, A., Druzhkov, M., Enikeev, R. and Gordiev, M.:
"Germline BRCA screening in breast cancer patients in Tatar women populations"
Annals of Oncology, 27, suppl 6 (2016).

5.

Kikuta, S., Watanabe, S. J., Sato, R., Gusev, O, Nesmelov, A., Sogame, Y., Cornette, R. and Kikawada, T.:
"Towards water-free biobanks: long-term dry-preservation at room temperature of desiccation-sensitive enzyme luciferase in air-dried insect cells."
Scientific Reports 7, Article number: 6540 (2017).

6.

Sogame, Y., Okada, J., Kikuta, S., Miyata, Y., Cornette, R., Gusev, O. and Kikawada, T.:
"Establishment of gene transfer and gene silencing methods in a desiccation-tolerant cell line, Pv11"
Extremophiles 21 (1), 65-72 (2017).

7.

*Gusev O., Suetsugu Y., Cornette R.,Kawashima T., Logacheva M., Kondrashov A.,Penin A., Hatanaka R., Kikuta Sh., Shimura S., Katayose Y.,Matsumoto T., Shagimardanova E., Alexeev D.,Govorun V., Wisecaver J., Mikheyev A., Koyanagi R., Nishiyama T., Shigenobu Sh., Shibata T., Galygina V., Hasebe M., Okuda T., Satoh N. and Kikawada T.:
"Comparative genome sequencing reveals genomic signature of extreme desiccation tolerance in the anhydrobiotic midge"
Nature Communications. 5, 4784; doi:10.1038/ncomms 5784 (2014).

8.

*Gusev, O., Cornette, R., Kikawada T., and Okuda, T.:
"Expression of heat shock proteins associated with anhydrobiosis in an African chironomid Polypedilum vanderplanki"
Cell Stress & Chaperones. 16(1), 81-90 (2011).

9.

*Gusev, O., Nakahara Y., Vanayagina V., Malutina L., Cornette, R., Sakashita, T., Hamada N., Kobayashi, Y., Kikawada T., and Okuda, T.:
"Nuclear DNA damage and reparation associated with anhydrobiosis in African chironomid and its impact to radioresistance"
PloS ONE 5 (11), e14008 (2010).

10.

*Sugimoto M, Oono Y, Gusev O, Matsumoto T, Yazawa T, Levinskikh MA, Sychev VN, Bingham GE, Wheeler R, Hummerick M.:
"Genome-wide expression analysis of reactive oxygen species gene network in Mizuna plants grown in long-term spaceflight"
BMC Plant Biol.6;14(1):4 (2014).
Recent Research Results
Lab Members
Principal investigator
Oleg Gusev

Unit Leader
Contact Information
1-7-22 Suehiro-cho, Tsurumi-ku,
Yokohama City, Kanagawa,
230-0045, Japan
Tel: +81-(0)45-503-9218
Email: oleg.gusev [at] riken.jp