RIKEN Center for Brain Science

Laboratory for Marmoset Neural Architecture

Laboratory Head: Hideyuki Okano (M.D., Ph.D.)
Research Summary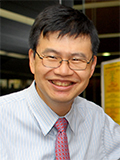 Our lab was the first in the world to successfully generate transgenic marmosets with germline transmission. Our gene modification techniques can be used in a variety of non-human primates. Through our study of genetically modified marmosets (including disease models), we aim to understand the higher cognitive functions that are unique to primates. Ultimately, we hope to apply our work in treating human neurologic diseases.
Little is known about the axonal connectivity and functional distribution in the marmoset brain. Thus, we also aim to create a structural and functional marmoset brain atlas by combining 9.4T MRI, tracer injection and Ca2+ imaging techniques.
Selected Publications
Papers with an asterisk(*) are based on research conducted outside of RIKEN.
1.

Okano H, Sasaki E, Yamamori T, Iriki A, Shimogori T, Yamaguchi Y, Kasai K, Miyawaki A.
"Brain/MINDS: A Japanese National Brain Project for Marmoset Neuroscience"
Neuron. 2016, 92, 582-590.

2.

*Sato K, Oiwa R, Kumita W, Henry R, Sakuma T, Ito R, Nozu R, Inoue T, Katano I, Sato K, Okahara N, Okahara J, Shimizu Y, Yamamoto M, Hanazawa K, Kawakami T, Kametani Y, Suzuki R, Takahashi T, Weinstein EJ, Yamamoto T, Sakakibara Y, Habu S, Hata J, Okano H, Sasaki E.
"Generation of a Nonhuman Primate Model of Severe Combined Immunodeficiency Using Highly Efficient Genome Editing"
Cell Stem Cell. 7;19:127-38

3.

Okano H, Miyawaki A, Kasai K.: Brain/MINDS:
"Brain/MINDS: brain-Mapping project in Japan"
Philos Trans R Soc Lond B Biol Sci. 2015 May 19;370(1668). pii: 20140310. doi: 10.1098/rstb.2014.0310.

4.

Izpisua Belmonte JC, Callaway EM, Churchland P, Caddick SJ, Feng G, Homanics GE, Lee K-F, Leopold DA, Miller CT, Mitchell JF, Mitalipov F, Moutri AR, Movshon JA, Okano H, Reynolds JH, Ringach D, Sejnowski TJ, Silva AC, Strick PL, Wu J, Zhang F. (in alphabetical order):
"Brains, genes and Primates"
Neuron. 2015 May 6;86(3):617-31. doi: 10.1016/j.neuron.2015.03.021.

5.

*Hikishima K, Ando K, Yano R, Kawai K, Komaki Y, Inoue T, Itoh T, Yamada M, Momoshima S, Okano HJ, Okano H.
"Parkinson Disease: Diffusion MR Imaging to Detect Nigrostriatal Pathway Loss in a Marmoset Model Treated with 1-Methyl-4-phenyl-1,2,3,6-tetrahydropyridine"
Radiology. 2015 May;275(2):430-7. doi: 10.1148/radiol.14140601. Epub 2015 Jan 15.

6.

*Kuwako K, Kawase S, Nishimoto Y, Okano H.:
"Cadherin-7 regulates mossy fiber connectivity in the cerebellum"
Cell Reports, 9(1):311-323, 2014.

7.

*Bae B-I, Tietjen I, Atabay KD, Evrony GD, Johnson MB, Asare E, Murayama A, Im K, Crosier M, Lisgo SN, Lindsay S, Šestan N, Bernard S. Chang BS, Barkovich J, Grant E, Topçu M, Politsky J, Okano H, Piao X, and Walsh CA:
"Evolutionarily Dynamic Alternative Splicing of GPR56 Regulates Regional Cerebral Cortical Patterning"
Science 343 (6172): 764-768, 2014.

8.

*Naka-Kaneda H, Nakamura S, Igarashi M, Aoi H, Kanki H, Tsutsumi S, Aburatani H, Shimazaki T and Okano H:
"The miR-17/106-p38 axis is a key regulator of the neurogenic-to-gliogenic competence transition in developing neural stem/progenitor cells"
Proc.Natl.Acad.Sci.USA 111(4):1604-1609, 2014

9.

*Bundo M, Toyoshima M, Okada Y, Akamatsu W, Ueda J, Nemoto-Miyauchi T, Sunaga F, Toritsuka M, Ikawa D, Kakita A, Kato M, Kasai K, Kishimoto T, Nawa H, Okano H, Yoshikawa T, Kato T, and Iwamoto K:
"Increased L1 Retrotransposition in the neuronal genome in Schizophrenia"
Neuron 81(2):306-313, 2014.

10.

*Sasaki E, Suemizu H, Shimada A, Hanazawa K, Oiwa R, Kamioka M, Sotomaru Y, Hirakawa R, Eto T, Shiozawa S, Maeda T, Ito R, Kito C, Yagihashi C, Kawai K, Miyoshi H, Tanioka Y, Tamaoki N, Habu S, Okano H, Nomura T.:
"Generation of transgenic non-human primates with germ line transmission"
Nature, 459(7246): 523-527, 2009. (*H. Okano is the corresponding author in this paper)
Publications
Related Links
Lab Members
Principal investigator
Hideyuki Okano

Laboratory Head
Core members
Noriyuki Kishi

Research Scientist

Junko Okahara

Research Scientist

Reona Kobayashi

Research Scientist

Ryusuke Nakajima

Research Scientist

Taeko Ito

Technical Staff I

Ayaka Oguchi

Technical Staff I

Junko Yoshie

Technical Staff I

Kei Hagiya

Technical Staff I

Jaimi Nagashima

Technical Staff I

Yumi Ogawa

Technical Staff II

Hiromi Mizumura

Assistant

Junichi Hata

Visiting Scientist

Daisuke Yoshimaru

Visiting Scientist

Takahiro Kondo

Visiting Scientist

Sho Yoshimatsu

Visiting Scientist
Contact Information
205, BSI East Building, 2-1 Hirosawa, Wako, Saitama 351-0198, Japan
Email: hideyuki.okano [at] riken.jp