RIKEN Center for Brain Science

Rhythm-Based Brain Information Processing Unit

Unit Leader: Keiichi Kitajo (Ph.D.)
Research Summary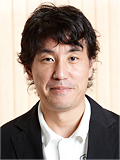 We investigate neural dynamics mediating adaptive and emergent brain functions. Specifically, we focus on functional roles of nonlinear neural dynamics such as oscillations and synchrony in perceptual, motor, cognitive, and communication processes in humans. We take manipulative approaches such as tES(transcranial electrical stimulation), TMS (Transcranial magnetic stimulation)-EEG (Electroencephalography), and neurofeedback to show causal roles of nonlinear neural dynamics in brain functions. We will find extensive applications of our approaches for stoke rehabilitation.
Main Research Fields
Related Research Fields
Keywords
Recording brain activity
Brain stimulation
Nonlinear neural dynamics
Selected Publications
1.

Yuka O.Okazaki, Yuji Mizuno, Keiichi Kitajo.:
"Probing dynamical cortical gating of attention with concurrent TMS-EEG."
Scientific Reports, 10, 4959, 1-10, doi: 10.1038/s41598-020-61590-2, 2020.

2.

Hiromichi Suetani, Keiichi Kitajo.:
"A manifold learning approach to mapping individuality of human brain oscillations through beta-divergence."
Neuroscience Research, 4373, 1-9, doi: 10.1016/j.neures.2020.02.004, 2020.

3.

Kei-ichi Ueda, Yasumasa Nishiura, Keiichi Kitajo.:
"Mathematical mechanism of state-dependent phase resetting properties of alpha rhythm in the human brain."
Neuroscience Research, 4387, 1-13, doi: 10.1016/j.neures.2020.03.007, 2020.

4.

Yue Wei, Yuka O. Okazaki, Richard HY So, Winnie C Chu, Keiichi Kitajo.:
"Motion sickness-susceptible participants exposed to coherent rotating dot patterns show excessive N2 amplitudes and impaired theta-band phase synchronization."
NeuroImage, 202, 116028, 1-13, doi: 10.1016/j.neuroimage.2019.116028, 2019.

5.

Sarah Glim, Yuka Okazaki, Yumi Nakagawa, Yuji Mizuno, Takashi Hanakawa, Keiichi Kitajo.:
"Phase-amplitude coupling of neural oscillations can be effectively probed with concurrent TMS-EEG."
Neural Plasticity, 6263907, 1-13, doi: 10.1155/2019/6263907, 2019.

6.

Teiji Kawano, Noriaki Hattori, Yutaka Uno, Keiichi Kitajo, Megumi Hatakenaka, Hajime Yagura, Hiroaki Fujimoto, Tomomi Yoshioka, Michiko Nagasako, Hironori Otomune, Ichiro Miyai.:
"Large-scale phase synchrony reflects clinical status after stroke: An EEG study."
Neurorehabilitation & Neural Repair, 31, 6, 561-570, doi: 10.1177/1545968317697031, 2017.

7.

Takafumi Kajihara, Muhammad Nabeel Anwar, Masahiro Kawasaki, Yuji Mizuno, Kimitaka Nakazawa, Keiichi Kitajo.:
"Neural dynamics in motor preparation: From phase-mediated global computation to amplitude-mediated local computation."
NeuroImage, 118, 445-455, doi:10.1016/j.neuroimage.2015.05.032, 2015.

8.

Keiichi Kitajo, Takashi Hanakawa, Risto J. Ilmoniemi and Carlo Miniussi.:
"A contemporary research topic: Manipulative approaches to human brain dynamics."
Frontiers in Human Neuroscience, 9:118. doi:10.3389/fnhum.2015.00118, 2015.

9.

Muhammad Nabeel Anwar, Muhammad Samran Navid, Mushtaq Khan, Keiichi Kitajo.:
"A possible correlation between performance IQ, visuomotor adaptation ability and mu suppression"
Brain Research, 1603, 84-93,doi:10.1016/j.brainres.2015.01.045, 2015.

10.

Masahiro Kawasaki, Yutaka Uno, Jumpei Mori, Kenji Kobata, Keiichi Kitajo.:
"Transcranial magnetic stimulation-induced global propagation of transient phase resetting associated with directional information flow."
Frontiers in Human Neuroscience, 8:173, doi: 10.3389/fnhum.2014.00173, 2014.
Related Links
Lab Members
Principal investigator
Keiichi Kitajo

Unit Leader
Core members
Takuro Zama

Research Scientist

Gaochao Cui

Research Scientist

Takayuki Onojima

Special Postdoctoral Researcher

Yumi Shikauchi

Visiting Researcher

Kaori Maeda

Technical Staff II
Contact Information
2-1 Hirosawa, Wako, Saitama 351-0198, Japan