Chief Scientist Laboratories

Cellular Dynamics Laboratory

Chief Scientist: Naoko Imamoto (Ph.D.)
Research Summary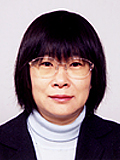 In eukaryotic cells, most of genomic information is stored in the cell nucleus. The main subject of our laboratory is to understand the nucleocytoplasmic transport and organization of cell nucleus to uncover new aspects and principles on regulation and maintenance of nuclear function. Our current effort has been focused on dissecting the dynamic behavior of nucleocytoplasmic transport machinery, transport pathways, and functional relation between nuclear envelope and chromatin structure in the context of live cells and cell-free reconstituted systems. We are taking cell biological, molecular biological, and biochemical approaches coupled with newly developed imaging techniques.
Main Research Fields
Related Research Fields
Biological Sciences
Cell biology
Molecular biology
Functional biochemistry
Keywords
Nucleocytoplasmic transport
Nuclear pore complex
Importin
Cell stress
Molecularchaperone
Selected Publications
1.

Ogawa, Y., Imamoto, N.:
"Nuclear transport adapts to varying heat stress in a multistep mechanism."
J. Cell Biol. 217, 2341 - 2352 (2018)

2.

Imamoto, N.:
"Heat stress-induced nuclear transport mediated by Hikeshi confers nuclear function of Hsp70s."
Curr. Opin.. Cell Biol. 52, 82-87 (2018).

3.

Takagi, M., Ono, T., Natsume, T., Sakamoto, Chi., Nakao, M., Saitoh, N., Kanemaki, M., Hirano, T., Imamoto, N.:
"Ki-67 and condensins support the integrity of mitotic chromosomes through distinct mechanisms."
J Cell Sci., 131(6). Pli:jcs212092 (2018)

4.

Mimura, Y., Takemoto, S., Tachibana, T., Ogawa, Y., Nishimura, M., Yokota, H., Imamoto, N.:
" Statistical image analysis framework for pore-free islands derived from heterogeneity distribution of nuclear pore complex."
Sci. Rep. 7, 16315 (2018)

5.

Kimura, M., Morinaka, Y., Imai, K., Kose, S., Horton, P., Imamoto, N.:
"Extensive cargo identification reveals distinct biological roles of the 12 importin pathways."
eLife 6, e21184s (2017)

6.

Mimura, Y., Takagi, M., Clever, M., Imamoto, N.:
"ELYS regulates the localization of LBR by modulating its phosphorylation state."
J Cell Sci. 129, 4200-4212 (2016) selected as featured article

7.

Edvardson, S., Kose, S., Jalas, C., Fattal-Valevski, A., Watanabe, A., Ogawa, Y., Mamada, H., Fedick, A.M., Ben-Shachar, S., Treff, N.R., Shaag, A., Bale, S., Gärtner, J.,*Imamoto, N,*Elpeleg, O.:
"Leukoencephalopathy and early death associated with an Ashkenazi-Jewish founder mutation in the Hikeshi gene."
J. Med. Genet. 53, 132-137 (2016)*equal correspondence

8.

Kimura, M., Kose, S., Okumura, N., Imai, K., Furuta, M., Sakiyama, N., Tomii, K., Horton, P., Takao, T., Imamoto, N.:
"Identification of cargo proteins specific for the nucleocytoplasmic transport carrier transportin by combination of an in vitro transport system and SILAC-based quantitative proteomics."
Mol. Cell. Proteomics 12:145-157 (2013)


9.

Kose, S., Furuta, M., Imamoto, N.:
"Hikeshi, a nuclear import carrier for Hsp70s, protects cells from heat-shock induced nuclear damage."
Cell 149, 578-589 (2012).

10.

Maeshima, K., Iino, H., Hihara, S., Funakoshi, T., Watanabe, A., Nishimura, M., Nakatomi, R., Yahata, K., Imamoto, F., Hashikawa, T., Yokota, H., Imamoto, N.:
"Nuclear pore formation but not nuclear growth is governed by cyclin-dependent kinases (Cdks) during interphase."
Nat Struct Mol Biol. 17, 1065-1071 (2010).
Recent Research Results
Annual research report
Related Links
Lab Members
Principal investigator
Naoko Imamoto

Chief Scientist
Core members
Shingo Kose

Senior Research Scientist

Masatoshi Takagi

Senior Research Scientist

Takeshi Mizuno

Senior Research Scientist

Makoto Kimura

Senior Research Scientist

Yutaka Ogawa

Research Scientist

Ai Watanabe

Technical Staff I

Hisae Yoneno

Technical Staff II

Yoshiko Hosono

Technical Staff II

Masae Takano

Assistant

Yuko Tokuhisa

Assistant
Contact Information
2-1 Hirosawa, Wako, Saitama 351-0198, Japan
Email: nimamoto [at] riken.jp