RIKEN Center for Sustainable Resource Science

Environmental Response Research Unit

Unit Leader: Ryoung Shin (Ph.D.)
Research Summary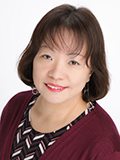 1.

Dissection of signaling cascades in plant response to potassium
Our unit aims to elucidate the components of plant potassium sensing and deficiency signaling in Arabidopsis using various approaches.

2.

Characterization of potassium/sodium channels in various systems
Potassium and sodium have similar chemical property that belong to alkali I metal group. In order to understand how seaweeds but not land plants survive in salt water, we are studying differences of sodium channels and potassium channels between algae and dicotyledonous land plants.

3.

Development of new methods for radiocesium remediation and analyses of regulatory components for phytoremediation
In order to develop efficient phytoremediation system for radioactive cesium in Fukushima area, we aim to develop plants which selectively and more (less) efficiently absorb cesium from contaminated soil. In addition, chemical screenings to elucidate the chemicals which affect cesium uptake in plants has been conducted. From the results obtained, the regulatory components of cesium uptake in plants are being studied.

4.

Development of abiotic stresses tolerance plants
Abiotic stresses including nutrient deficiency and salt stress result in huge loss of plant growth and crop production. As solving these problems, we aim to develop the abiotic stresses tolerance plants using various approaches including molecular, physiological, and chemical approaches.
Main Research Fields
Related Research Fields
Environmental Science
Agricultural Sciences
Keywords
Potassium
Cesium
Transporter and ion channel
Abiotic stress tolerance
Phytoremediation
Selected Publications
1.

Ju Yeon Moon, Celestine Belloeil, Madeline Louise Ianna, Ryoung Shin*
Arabidopsis CNGC family members contribute to heavy metal ion uptake in plants.
Int. J. Mol. Sci. 20:413, doi: 10.3390/ijms20020413 (2019).

2.

Eri Adams, Takae Miyazaki, Ryoung Shin*
Contribution of KUPs to potassium and cesium accumulation appears complementary in Arabidopsis.
Plant Signal Behav. 4(1):1554468, doi/full/10.1080/15592324.2018.1554468 (2019).

3.

Eri Adams, Takae Miyazaki, Shunya Saito, Nobuyuki Uozumi, Ryoung Shin*
Cesium inhibits plant growth primarily through reduction of potassium influx and accumulation in Arabidopsis.
Plant Cell Physiol. 60: 63-76, doi: 10.1093/pcp/pcy188 (2019).

4.

Eri Adams, Koji Mikami, Ryoung Shin*
Selection of genes involved in potassium deficiency tolerance in Pyropia yezoensis through construction of cDNA libraries.
J. Appl. Phycol. 29: 2617-2626 (2017).

5.

Hajime Takiguchi, Jong-Pil Hong, Hidetoshi Nishiyama, Makoto Hakata, Hidemitsu Nakamura, Hiroaki Ichikawa, Chang-Jin Park, Ryoung Shin*
Discovery of E3 ubiquitin ligases that alter responses to nitrogen deficiency using rice Full-length cDNA OvereXpressor (FOX)-hunting system.
Plant Mol. Bio. Rep. 35:343-354 (2017).

6.

Eri Adams, Takae Miyazaki, Aya Hayaishi-Satoh, Minwoo Han, Miyako Kusano, Himanshu Khandelia, Kazuki Saito, Ryoung Shin*
A novel role of methyl cysteinate and cysteine in cesium accumulation and response in Arabidopsis thaliana.
Sci. Rep. 7:43170; doi: 10.1038/srep43170 (2017)

7.

Jong-Pil Hong, Eri Adams, Yuki Yanagawa, Minami Matsui, Ryoung Shin*
AtSKIP18 and AtSKIP31, F-box subunits of the SCF E3 ubiquitin ligase complex, mediate the degradation of 14-3-3 proteins in Arabidopsis.
Biochem, Biophysic. Res. Commun. 485:174-180 (2017).

8.

Eri Adams, Vitaly Chanban, Himanshu Khandelia, Ryoung Shin*
Selective chemical binding enhances cesium tolerance in plants through inhibition of cesium uptake.
Sci. Rep. 5:8842 (2015)

9.

Eri Adams, Celine Diaz, Jong-Pil Hong, Ryoung Shin*
14-3-3 proteins participate in light signalling through association with PHYTOCHROME INTERACTING FACTORs.
Int. J. Mol. Sci. 15:22801-22814 (2014).

10.

Masaaki Akamatsu, Hirokazu Komatsu, Taizo Mori, Eri Adams, Ryoung Shin, Hideki Sakai, Masahiko Abe, Jonathan P. Hill, Katsuhiko Ariga.
Intracellular Imaging of cesium distribution in Arabidopsis using cesium green.
ACS Appl. Mater. Inter. 6:8208-8211 (2014).
Recent Research Results
Related Links
Lab Members
Principal investigator
Ryoung Shin

Unit Leader
Core members
Ju Yeon Moon

Postdoctoral Researcher

Ayako Miya

Technical Staff I

Takae Miyazaki

Technical Staff II
Careers
Contact Information
C604 Central Research Building, 1-7-22 Suehiro-cho, Tsurumi-ku, Yokohama City, Kanagawa, 230-0045, Japan
Email: Ryoung.Shin [at] riken.jp