RIKEN Center for Sustainable Resource Science

Bioprobe Research Group

Group Director: Hiroyuki Osada (D.Agr.)
Research Summary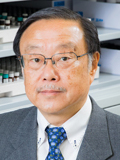 In collaboration with a group of Max Planck Institute (MPI) of Molecular Physiology (group of Prof. Herbert Waldmann), Dortmund, Germany, we perform chemical biology study. We exchange young researchers each other for the tight and continuous collaboration.
Main Research Fields
Related Research Fields
Interdisciplinary Science & Engineering
Biological Sciences
Keywords
Chemical Biology
Natural Products Depository
Analysis of Protein-Small Molecule Interaction
Selected Publications
1.

Robke, L., Laraia, L., Carnero Corrales, M.A., Konstantinidis, G., Muroi, M., Richters, A., Winzker, M., Engbring, T., Tomassi, S., Watanabe, N., Osada, H., Rauh, D., Waldmann, H., Wu, Y.W., and Engel, J.:
"Phenotypic Identification of a Novel Autophagy Inhibitor Chemotype Targeting Lipid Kinase VPS34."
Angew Chem Int Ed Engl. 56, 8153-8157 (2017).

2.

Ursu, A., Illich, D.J., Takemoto, Y., Porfetye, A.T., Zhang M., Brockmeyer, A, Janning, P., Watanabe, N., Osada, H., Vetter, I.R., Ziegler, S., Schöler, H.R., and Waldmann, H.:
"Epiblastin A Induces Reprogramming of Epiblast Stem Cells Into Embryonic Stem Cells by Inhibition of Casein Kinase 1."
Cell Chem Biol. 23, 494-507 (2016).

3.

Kawatani M, Muroi M, Wada A, Inoue G, Futamura Y, Aono H, Shimizu K, Shimizu T, Igarashi Y, Takahashi-Ando N, Osada H.:
"Proteomic profiling reveals that collismycin A is an iron chelator."
Sci Rep, 6, 38385 (2016).

4.

Kawamura T, Kawatani M, Muroi M, Kondoh Y, Futamura Y, Aono H, Tanaka M, Honda K, Osada H.:
"Proteomic profiling of small-molecule inhibitors reveals dispensability of MTH1 for cancer cell survival."
Sci Rep, 6, 26521 (2016).

5.

Muroi M, Futamura Y, Osada H.:
"Integrated profiling methods for identifying the targets of bioactive compounds: MorphoBase and ChemProteoBase."
Nat Prod Rep, 33, 621-625 (2016).

6.

Kawamura T, Kondoh Y, Muroi M, Kawatani M, Osada H.:
"A small molecule that induces reactive oxygen species via cellular glutathione depletion."
Biochem J, 463, 53-63 (2014).
Related Links
Lab Members
Principal investigator
Hiroyuki Osada

Group Director
Core members
Makoto Muroi

Senior Research Scientist
Contact Information
Chemical Biology Building,
2-1 Hirosawa,
Wako, Saitama
351-0198, Japan
Email: hisyo [at] riken.jp