RIKEN Center for Integrative Medical Sciences

Laboratory for Genome Information Analysis

Team Leader: Chung Chau Hon (Ph.D.)
Research Summary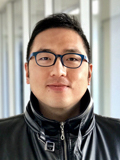 How can we discriminate healthy and disease status in our body? We will study transcriptional networks and develop innovative analysis technologies based on next generation sequencing data to clarify differences between normal and disease cells, such as cancer. The team will also develop methods to identify biomarkers for early detection of disease, and applications to use genomics data to broadly understand biological function.
Main Research Fields
Related Research Fields
Keywords
CAGE
RNA
Single Cell
Bioinformatics
Genomics
Selected Publications
1.

Hon Chung Chau, RAMILOWSKI Jordan, Harshbarger Jayson Mathew, Bertin Nicolas, Rackham Owen, Gough Julian, Denisenko Elena, Schmeier Sebastian, Poulsen Thomas M, Severin Jessica, Lizio Marina, Kawaji Hideya, Kasukawa Takeya, Itoh Masayoshi, Burroughs Alexander, Noma Shohei, Djebali Sarah, Tanvir Alam, Medvedeva Yulia A., Testa Alison C., Lipovich Leonard, Yip Chi Wai , Abugessaisa Imad, Mendez Mickaël, Hasegawa Akira, Tang Dave, Lassmann Timo, Heutink Peter, Babina Magda, Wells Christine, Kojima Soichi, Nakamura Yukio, Suzuki Harukazu, Daub Carsten O., de Hoon Michiel JL, Arner Erik, Hayashizaki Yoshihide, Carninci Piero, and Forrest Alistair Raymond Russel.
"An atlas of human long non-coding RNAs with accurate 5'ends"
Nature, 2017 Mar 9;543(7644):199-204. doi: 10.1038/nature21374. Epub 2017 Mar 1.

2.

Schein Aleks, Zucchelli Silvia, Kauppinen Sakari, Gustincich Stefano, and Carninci Piero.
"Identification of antisense long noncoding RNAs that function as SINEUPs in human cells"
Sci Rep 2016 Sep 20;6:33605. doi: 10.1038/srep33605.

3.

Hashimoto K, Suzuki AM, Dos Santos A, Desterke C, Collino A, Ghisletti S, Braun E, Bonetti A, Fort A, Qin XY, Radaelli E, Kaczkowski B, Forrest AR, Kojima S, Samuel D, Natoli G, Buendia MA, Faivre J, Carninci P.:
"CAGE profiling of ncRNAs in hepatocellular carcinoma reveals widespread activation of retroviral LTR promoters in virus-induced tumors."
Genome Res. 2015 Dec;25(12):1812-24. doi: 10.1101/gr.191031.115. Epub 2015 Oct 28.

4.

Arner E, Daub CO, Vitting-Seerup K, Andersson R, Lilje B, Drabløs F, Lennartsson A, Rönnerblad M, Hrydziuszko O, Vitezic M, Freeman TC, Alhendi AM, Arner P, Axton R, Baillie JK, Beckhouse A, Bodega B, Briggs J, Brombacher F, Davis M, Detmar M, Ehrlund A, Endoh M, Eslami A, Fagiolini M, Fairbairn L, Faulkner GJ, Ferrai C, Fisher ME, Forrester L, Goldowitz D, Guler R, Ha T, Hara M, Herlyn M, Ikawa T, Kai C, Kawamoto H, Khachigian LM, Klinken SP, Kojima S, Koseki H, Klein S, Mejhert N, Miyaguchi K, Mizuno Y, Morimoto M, Morris KJ, Mummery C, Nakachi Y, Ogishima S, Okada-Hatakeyama M, Okazaki Y, Orlando V, Ovchinnikov D, Passier R, Patrikakis M, Pombo A, Qin XY, Roy S, Sato H, Savvi S, Saxena A, Schwegmann A, Sugiyama D, Swoboda R, Tanaka H, Tomoiu A, Winteringham LN, Wolvetang E, Yanagi-Mizuochi C, Yoneda M, Zabierowski S, Zhang P, Abugessaisa I, Bertin N, Diehl AD, Fukuda S, Furuno M, Harshbarger J, Hasegawa A, Hori F, Ishikawa-Kato S, Ishizu Y, Itoh M, Kawashima T, Kojima M, Kondo N, Lizio M, Meehan TF, Mungall CJ, Murata M, Nishiyori-Sueki H, Sahin S, Nagao-Sato S, Severin J, de Hoon MJ, Kawai J, Kasukawa T, Lassmann T, Suzuki H, Kawaji H, Summers KM, Wells C; FANTOM Consortium, Hume DA, Forrest AR, Sandelin A, Carninci P, Hayashizaki Y.:
"Transcribed enhancers lead waves of coordinated transcription in transitioning mammalian cells."
Science. 2015 Feb 27;347(6225):1010-4. doi: 10.1126/science.1259418. Epub 2015 Feb 12.

5.

Fort A, Hashimoto K, Yamada D, Salimullah M, Keya CA, Saxena A, Bonetti A, Voineagu I, Bertin N, Kratz A, Noro Y, Wong CH, de Hoon M, Andersson R, Sandelin A, Suzuki H, Wei CL, Koseki H; FANTOM Consortium, Hasegawa Y, Forrest AR, Carninci P.:
"Deep transcriptome profiling of mammalian stem cells supports a regulatory role for retrotransposons in pluripotency maintenance."
Nat Genet. 2014 Jun;46(6):558-66. doi: 10.1038/ng.2965. Epub 2014 Apr 28.

6.

Forrest AR, Kawaji H, Rehli M, Baillie JK, de Hoon MJ, Haberle V, Lassmann T, Kulakovskiy IV, Lizio M, Itoh M, Andersson R, Mungall CJ, Meehan TF, Schmeier S, Bertin N, Jørgensen M, Dimont E, Arner E, Schmidl C, Schaefer U, Medvedeva YA, Plessy C, Vitezic M, Severin J, Semple C, Ishizu Y, Young RS, Francescatto M, Alam I, Albanese D, Altschuler GM, Arakawa T, Archer JA, Arner P, Babina M, Rennie S, Balwierz PJ, Beckhouse AG, Pradhan-Bhatt S, Blake JA, Blumenthal A, Bodega B, Bonetti A, Briggs J, Brombacher F, Burroughs AM, Califano A, Cannistraci CV, Carbajo D, Chen Y, Chierici M, Ciani Y, Clevers HC, Dalla E, Davis CA, Detmar M, Diehl AD, Dohi T, Drabløs F, Edge AS, Edinger M, Ekwall K, Endoh M, Enomoto H, Fagiolini M, Fairbairn L, Fang H, Farach-Carson MC, Faulkner GJ, Favorov AV, Fisher ME, Frith MC, Fujita R, Fukuda S, Furlanello C, Furino M, Furusawa J, Geijtenbeek TB, Gibson AP, Gingeras T, Goldowitz D, Gough J, Guhl S, Guler R, Gustincich S, Ha TJ, Hamaguchi M, Hara M, Harbers M, Harshbarger J, Hasegawa A, Hasegawa Y, Hashimoto T, Herlyn M, Hitchens KJ, Ho Sui SJ, Hofmann OM, Hoof I, Hori F, Huminiecki L, Iida K, Ikawa T, Jankovic BR, Jia H, Joshi A, Jurman G, Kaczkowski B, Kai C, Kaida K, Kaiho A, Kajiyama K, Kanamori-Katayama M, Kasianov AS, Kasukawa T, Katayama S, Kato S, Kawaguchi S, Kawamoto H, Kawamura YI, Kawashima T, Kempfle JS, Kenna TJ, Kere J, Khachigian LM, Kitamura T, Klinken SP, Knox AJ, Kojima M, Kojima S, Kondo N, Koseki H, Koyasu S, Krampitz S, Kubosaki A, Kwon AT, Laros JF, Lee W, Lennartsson A, Li K, Lilje B, Lipovich L, Mackay-Sim A, Manabe R, Mar JC, Marchand B, Mathelier A, Mejhert N, Meynert A, Mizuno Y, de Lima Morais DA, Morikawa H, Morimoto M, Moro K, Motakis E, Motohashi H, Mummery CL, Murata M, Nagao-Sato S, Nakachi Y, Nakahara F, Nakamura T, Nakamura Y, Nakazato K, van Nimwegen E, Ninomiya N, Nishiyori H, Noma S, Noma S, Noazaki T, Ogishima S, Ohkura N, Ohimiya H, Ohno H, Ohshima M, Okada-Hatakeyama M, Okazaki Y, Orlando V, Ovchinnikov DA, Pain A, Passier R, Patrikakis M, Persson H, Piazza S, Prendergast JG, Rackham OJ, Ramilowski JA, Rashid M, Ravasi T, Rizzu P, Roncador M, Roy S, Rye MB, Saijyo E, Sajantila A, Saka A, Sakaguchi S, Sakai M, Sato H, Savvi S, Saxena A, Schneider C, Schultes EA, Schulze-Tanzil GG, Schwegmann A, Sengstag T, Sheng G, Shimoji H, Shimoni Y, Shin JW, Simon C, Sugiyama D, Sugiyama T, Suzuki M, Suzuki N, Swoboda RK, 't Hoen PA, Tagami M, Takahashi N, Takai J, Tanaka H, Tatsukawa H, Tatum Z, Thompson M, Toyodo H, Toyoda T, Valen E, van de Wetering M, van den Berg LM, Verado R, Vijayan D, Vorontsov IE, Wasserman WW, Watanabe S, Wells CA, Winteringham LN, Wolvetang E, Wood EJ, Yamaguchi Y, Yamamoto M, Yoneda M, Yonekura Y, Yoshida S, Zabierowski SE, Zhang PG, Zhao X, Zucchelli S, Summers KM, Suzuki H, Daub CO, Kawai J, Heutink P, Hide W, Freeman TC, Lenhard B, Bajic VB, Taylor MS, Makeev VJ, Sandelin A, Hume DA, Carninci P, Hayashizaki Y.:
"A promoter-level mammalian expression atlas."
Nature. 2014 Mar 27;507(7493):462-70. doi: 10.1038/nature13182.

7.

Andersson R, Gebhard C, Miguel-Escalada I, Hoof I, Bornholdt J, Boyd M, Chen Y, Zhao X, Schmidl C, Suzuki T, Ntini E, Arner E, Valen E, Li K, Schwarzfischer L, Glatz D, Raithel J, Lilje B, Rapin N, Bagger FO, Jørgensen M, Andersen PR, Bertin N, Rackham O, Burroughs AM, Baillie JK, Ishizu Y, Shimizu Y, Furuhata E, Maeda S, Negishi Y, Mungall CJ, Meehan TF, Lassmann T, Itoh M, Kawaji H, Kondo N, Kawai J, Lennartsson A, Daub CO, Heutink P, Hume DA, Jensen TH, Suzuki H, Hayashizaki Y, Müller F; FANTOM Consortium, Forrest AR, Carninci P, Rehli M, Sandelin A.:
"An atlas of active enhancers across human cell types and tissues."
Nature. 2014 Mar 27;507(7493):455-61. doi: 10.1038/nature12787.

8.

Carrieri C, Cimatti L, Biagioli M, Beugnet A, Zucchelli S, Fedele S, Pesce E, Ferrer I, Collavin L, Santoro C, Forrest AR, Carninci P, Biffo S, Stupka E, Gustincich S.:
"Long non-coding antisense RNA controls Uchl1 translation through an embedded SINEB2 repeat."
Nature. 2012 Nov 15;491(7424):454-7. doi: 10.1038/nature11508. Epub 2012 Oct 14.

9.

ENCODE Project Consortium.:
"An integrated encyclopedia of DNA elements in the human genome."
Nature. 2012 Sep 6;489(7414):57-74. doi: 10.1038/nature11247.

10.

Faulkner GJ, Kimura Y, Daub CO, Wani S, Plessy C, Irvine KM, Schroder K, Cloonan N, Steptoe AL, Lassmann T, Waki K, Hornig N, Arakawa T, Takahashi H, Kawai J, Forrest AR, Suzuki H, Hayashizaki Y, Hume DA, Orlando V, Grimmond SM, Carninci P.:
"The regulated retrotransposon transcriptome of mammalian cells."
Nat Genet. 2009 May;41(5):563-71. doi: 10.1038/ng.368. Epub 2009 Apr 19.
Recent Research Results
Events
Publications
Related Links
Lab Members
Principal investigator
Chung Chau Hon

Team Leader
Core members
Jonathan Moody

Research Scientist

Khaja Mohieddin Syed

Postdoctoral Researcher

Tyler Matthew Weirick

Postdoctoral Researcher

Matti Ngoc Lam

Visiting Researcher
Careers
Contact Information
1-7-22 Suehiro-cho, Tsurumi-ku,
Yokohama City, Kanagawa,
230-0045, Japan