RIKEN Center for Integrative Medical Sciences

Laboratory for Immunogenetics

Team Leader: Tadashi Yamamoto (Ph.D.)
Research Summary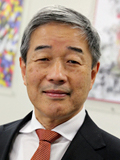 Posttranscriptional mechanisms are responsible for various biological events and their dysregulation is linked to a variety of disorders. mRNA degradation mediated by mRNA binding proteins or microRNAs is essential to reduce the amounts of unnecessary mRNAs. We have found that gene-engineered mice lacking an mRNA decay machinery displayed abnormal tissue formation, inflammation or metabolic disorders. We are studying about the molecular mechanisms by which those abnormalities are induced and are also trying to identify effective treatments to improve them.
Main Research Fields
Keywords
Signal transduction
mRNA degradation
Selected Publications
Papers with an asterisk(*) are based on research conducted outside of RIKEN.
1.

Li X, Morita M, Kikuguchi C, Takahashi A, Suzuki T and Yamamoto T.:
"Adipocyte-specific disruption of mouse Cnot3 causes lipodystrophy."
FEBS Letters 591:358-368. (2017)

2.

Setoguchi R.:
"IL-15 boosts the function and migration of human terminally differentiated CD8+ T cells by inducing a unique gene signature."
Int Immunol 28(6) 293-305(2016)

3.

*Akiyama N, Takizawa N, Miyauchi M, Yanai H, Tateishi R, Shinzawa M, Yoshinaga R, Kurihara M, Demizu Y, Yasuda H, Yagi S, Wu G, Matsumoto M, Sakamoto R, Yoshida N, Penninger JM., Kobayashi Y, Inoue J, and Akiyama T.:
"Identification of embryonic precursor cells that differentiate into thymic epithelial cells expressing autoimmune regulator."
J Exp Med 213(8),1441-1458 (2016)

4.

*Takahashi A, Adachi S, Morita M, Tokumasu M, Natsume T, Suzuki T, and Yamamoto T.:
"Post-Transcriptional Stabilization of Ucp1 mRNA Protects Mice from Diet-Induced Obesity."
Cell Rep 13: 2756-2767. (2015)

5.

*Suzuki T, Kikuguchi C, Sharma S, Sasaki T, Tokumasu M, Adachi S, Natsume T, Kanegae Y and Yamamoto T.:
"CNOT3 suppression promotes necroptosis by stabilizing mRNAs for cell death-inducing proteins."
Sci Rep 5:14779 -14792(2015)

6.

*Inoue T, Morita M, Hijikata A, Fukuda-Yuzawa Y, Adachi S, Isono K, Ikawa T, Kawamoto H, Koseki H, Tohru N, Fukao T, Ohara O, Yamamoto T, Kurosaki T.:
"CNOT3 contributes to early B cell development by controlling Igh rearrangement and p53 mRNA stability."
J Exp Med 212:1465-1479. (2015)

7.

*Setoguchi R, Matsui Y, and Mouri K.:
"mTOR signaling promotes a robust and continuous production of IFN-gamma by human memory-phenotype CD8+ T cells and their proliferation."
Eur J Immunol 45(3), 893-902 (2015)

8.

*Tateishi R*, Akiyama N* (*equal contributions), Miyauchi M, Yoshinaga R, Sasanuma H, Kudo T, Shimbo M, Shinohara M, Obata K, Inoue J, Shirakawa M, Shiba D, Asahara H, Yoshida N, Takahashi S, Morita H, and Akiyama T.:
"Hypergravity provokes a temporary reduction in CD4+CD8+ thymocyte number and a persistent decrease in medullary thymic epithelial cell frequency in mice."
Plos One 10(10): e0141650 (2015)

9.

Inoue T, Hoshina N, nakazawa T, Kiyama Y, Abe T, Yamamoto T, Manabe T, and Yamamoto T.:
"LMTK3 deficiency causes pronounced locomotor hyperactivity and impairs endocytic trafficking."
J Neurosci 34: 5927-5937. (2014)

10.

Hoshina N, Tanimura A, Yamasaki M, Inoue T, Fukabori R, Kuroda T, Yokoyama K, Tezuka T, Sagara H, Hirano S, Kiyonari H, Takada M, Kobayashi K, Watanabe M, Kano M, Nakazawa T, and Yamamoto T.:
"Protocadherin 17 Regulates Presynaptic Assembly in Topographic Cortico-Basal Ganglia Circuits."
Neuron 78:839-854 (2013)
Related Links
Lab Members
Principal investigator
Tadashi Yamamoto

Team Leader
Core members
Toru Suzuki

Senior Research Scientist

Nobuko Akiyama

Senior Research Scientist

Olga Elisseeva

Research Scientist

Chisato Kikuguchi

Technical Staff I
Contact Information
4F, North Research Building,
1-7-22 Suehiro-cho, Tsurumi-ku,
Yokohama City, Kanagawa,
230-0045, Japan
Tel: +81-(0)45-503-7009
Fax: +81-(0)45-503-6454
Email: tadashi.yamamoto [at] riken.jp