RIKEN Center for Integrative Medical Sciences

Laboratory for Applied Regulatory Genomics Network Analysis

Team Leader: Erik Arner (Ph.D.)
Research Summary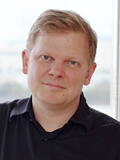 Based on omics technologies developed at DGT, in particular unique transcriptome technology such as CAGE, we develop systems for identifcation of target proteins suitable for regulatory molecules and exploration of the effect of regulatory molecules. Specifically, we aim to develop technology for 1) identification of the best path to control a target signal transduction pathway, 2) exploration of the transcriptional effect of regulatory molecules at the cellular level, and 3) analysis of targets and regulatory molecules at the single cell level.
Main Research Fields
Molecular Biology & Genetics
Related Research Fields
Biology & Biochemistry
Pharmacology & Toxicology
Clinical Medicine
Computer Science
Multidisciplinary
Research Subjects
Transcriptional regulation at promoters and enhancers
Drug response profiling
Molecular disease mechanisms
Selected Publications
1.

Arner E, Daub CO, Vitting-Seerup K, Andersson R et al.:
"Transcribed enhancers lead waves of coordinated transcription in transitioning mammalian cells."
Science. 2015; 347(6225):1010-4.

2.

Andersson R, Gebhard C, Miguel-Escalada I, Hoof I, Bornholdt J, Boyd M, Chen Y, Zhao X, Schmidl C, Suzuki T, Ntini E, Arner E et al.:
"An atlas of active enhancers across human cell types and tissues."
Nature. 2014; 507(7493):455-61.

3.

Forrest ARR, Kawaji H, Rehli M, Baillie JK, de Hoon MJL, Haberle V, Lassmann T, Kulakovskiy IV, Lizio M, Itoh M, Andersson R, Mungall CJ, Meehan TF, Schmeier S, Bertin N, Jørgensen M, Dimont E, Arner E et al.:
"A promoter level mammalian expression atlas."
Nature. 2014; 507(7493):462-70.

4.

Rönnerblad M, Andersson R, Olofsson T, Douagi I, Karimi M, Lehmann S, Hoof I, Sandelin A, de Hoon M, Itoh M, Nago-Sato S, Kawaji H, Lassmann T, Carninci P, Hayashizaki Y, Forrest ARR, Ekwall K, Arner E, Lennartsson A.:
"Analysis of the DNA methylome and transcriptome in granulopoiesis reveal timed changes and dynamic enhancer methylation."
Blood. 2014; 123(17):e79-89.

5.

Prasad P, Rönnerblad M, Arner E, Itoh M, Kawaji H, Lassmann T, Daub C, Forrest ARR, Lennartsson A, Ekwall K.:
"High-throughput transcription profiling identifies putative epigenetic regulators of hematopoiesis."
Blood. 2014; 123(17):e46-57.

6.

Arner E, Forrest ARR, Ehrlund A, Mejhert N, Itoh M, Kawaji H, Lassmann T, Laurencikiene J, Rydén M, Arner P.:
"Ceruloplasmin is a novel adipokine which is overexpressed in adipose tissue of obese subjects and in obesity-associated cancer cells."
PLOS ONE. 2014; 9(3):e80274.

7.

Gao H, Mejhert N, Fretz JA, Arner E, Lorente-Cebrián S, Ehrlund A, Dahlman-Wright K, Gong X, Strömblad S, Douagi I, Laurencikiene J, Dahlman I, Daub CO, Rydén M, Horowitz MC, Arner P.:
"Early B cell factor 1 regulates adipocyte morphology and lipolysis in white adipose tissue."
Cell Metab. 2014; 19(6):981-92.

8.

Arner E, Mejhert N, Kulyté A, Balwierz PJ, Pachkov M, Cormont M, Lorente-Cebrián S, Ehrlund A, Laurencikiene J, Hedén P, Dahlman-Wright K, Tanti JF, Hayashizaki Y, Rydén M, Dahlman I, van Nimwegen E, Daub CO, Arner P.]
"Adipose tissue microRNAs as regulators of CCL2 production in human obesity."
Diabetes. 2012; 61(8):1986-93.

9.

Suzuki H, Forrest AR, van Nimwegen E, Daub CO, Balwierz PJ, Irvine KM, Lassmann T, Ravasi T, Hasegawa Y, de Hoon MJ, Katayama S, Schroder K, Carninci P, Tomaru Y, Kanamori-Katayama M, Kubosaki A, Akalin A, Ando Y, Arner E et al.:
"The transcriptional network that controls growth arrest and differentiation in a human myeloid leukemia cell line."
Nat Genet. 2009; 41(5):553-62.

10.

Spalding KL, Arner E, Westermark PO, Bernard S, Buchholz BA, Bergmann O, Blomqvist L, Hoffstedt J, Näslund E, Britton T, Concha H, Hassan M, Rydén M, Frisén J, Arner P.:
"Dynamics of fat cell turnover in humans."
Nature. 2008; 453(7196):783-7.
Related Links
Lab Members
Principal investigator
Erik Arner

Team Leader
Core members
Masaaki Furuno

Senior Research Scientist

TaeJun Kwon

Research Scientist

Yi Huang

Postdoctoral Researcher

Takahiro Arakawa

Technical Staff I
Contact Information
1-7-22 Suehiro-cho, Tsurumi-ku,
Yokohama City, Kanagawa,
230-0045, Japan
Email: erik.arner [at] riken.jp