RIKEN Center for Integrative Medical Sciences

Preventive Medicine and Applied Genomics Unit

Unit Leader: Hideya Kawaji (Ph.D.)
Research Summary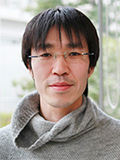 We focus on computational aspects in clinical genomics, which includes extensive exploration of biomarkers indicating clinical status, genomic analysis combined with clinical records, and secure computing environment supporting these analysis. We are going to develop technologies in these fields and contribute to projects in RIKEN Preventive Medicine & Diagnosis Innovation Program as well as other projects by applying our technologies.
Main Research Fields
Related Research Fields
Keywords
transcriptome
genomics
bioinformatics
Selected Publications
1.

Yoshihara M, Sasamoto Y, Hayashi R, Ishikawa Y, Tsujikawa M, Hayashizaki Y, Itoh M, Kawaji H, Nishida K.:
"High-resolution promoter map of human limbal epithelial cells cultured with keratinocyte growth factor and rho kinase inhibitor"
Sci Rep 7: 2845. (2017)

2.

Takamochi K, Ohmiya H, Itoh M, Mogushi K, Saito T, Hara K, Mitani K, Kogo Y, Yamanaka Y, Kawai J, Hayashizaki Y, Oh S, Suzuki K, Kawaji H.:
"Novel biomarkers that assist in accurate discrimination of squamous cell carcinoma from adenocarcinoma of the lung"
BMC Cancer 16: 760.(2016)

3.

Lizio M, Harshbarger J, Shimoji H, Severin J, Kasukawa T, Sahin S, Abugessaisa I, Fukuda S, Hori F, Ishikawa-Kato S, Mungall CJ, Arner E, Baillie J, Bertin N, Bono H, de Hoon M, Diehl AD, Dimont E, Freeman TC, Fujieda K, Hide W, Kaliyaperumal R, Katayama T, Lassmann T, Meehan TF, Nishikata K, Ono H, Rehli M, Sandelin A, Schultes EA, 't Hoen P, Tatum Z, Thompson M, Toyoda T, Wright DW, Daub CO, Itoh M, Carninci P, Hayashizaki Y, Forrest A, Kawaji H.:
"Gateways to the FANTOM5 promoter level mammalian expression atlas"
Genome Biol 16: 22 (2015)

4.

Forrest ARR, Kawaji H, Rehli M, et al.:
"A promoter-level mammalian expression atlas"
Nature 507:462–70 (2014)

5.

Andersson R, Gebhard C, Miguel-Escalada I, Hoof I, Bornholdt J, Boyd M, Chen Y, Zhao X, Schmidl C, Suzuki T, Ntini E, Arner E, Valen E, Li K, Schwarzfischer L, Glatz D, Raithel J, Lilje B, Rapin N, Bagger FO, Jørgensen M, Andersen PR, Bertin N, Rackham O, Burroughs AM, Baillie JK, Ishizu Y, Shimizu Y, Furuhata E, Maeda S, Negishi Y, Mungall CJ, Meehan TF, Lassmann T, Itoh M, Kawaji H, Kondo N, Kawai J, Lennartsson A, Daub CO, Heutink P, Hume DA, Jensen TH, Suzuki H, Hayashizaki Y, Müller F, Forrest ARR, Carninci P, Rehli M, Sandelin A. 2014.:
"An atlas of active enhancers across human cell types and tissues"
Nature 507:455–61 (2014)

6.

Kawaji H, Lizio M, Itoh M, et al.:
"Comparison of CAGE and RNA-seq transcriptome profiling using clonally amplified and single-molecule next-generation sequencing"
Genome Res. 24:708–717 (2014)

7.

Kajiyama K, Okada-Hatakeyama M, Hayashizaki Y, Kawaji H, Suzuki H.:
"Capturing drug responses by quantitative promoter activity profiling"
CPT pharmacometrics Syst Pharmacol. 2:e77 (2013)

8.

Kawano M, Kawaji H, Grandjean V, Kiani J, Rassoulzadegan M.:
"Novel small noncoding RNAs in mouse spermatozoa, zygotes and early embryos"
PLoS One. 7:e44542 (2012)

9.

Kawaji H, Nakamura M, Takahashi Y, et al.:
"Hidden layers of human small RNAs"
BMC Genomics. 9:157 (2008).

10.

Kawaji H, Frith MC, Katayama S, et al.:
"Dynamic usage of transcription start sites within core promoters."
Genome Biol. 7(12):R118 (2006).
Related Links
Lab Members
Principal investigator
Hideya Kawaji

Unit Leader
Core members
Masaki Morioka

Research Scientist

Naoki Hirose

Postdoctoral Researcher

Shruti Bhagat

International Program Associate

Yosuke Ito

Junior Research Associate

Tomoaki Takahashi

Junior Research Associate

Hiromi Sano

Technical Staff I
Contact Information
W420 RIKEN Yokohama Campus,
1-7-22 Suehiro-cho, Tsurumi-ku,
Yokohama City, Kanagawa,
230-0045, Japan
Tel: +81-(0)45-503-9218
Fax: +81-(0)45-503-9219
Email: kawaji [at] gsc.riken.jp