RIKEN Center for Computational Science

Application Development Team

Team Leader: Hirofumi Tomita (D.Eng.)
Research Summary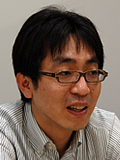 Aiming for maximizing the outcome from post K-computer, Application Development Team conducts the R&D with the related researchers from architecture, system software and algorithm field. Its core missions are:
1.

Co-design based on target applications
The team executes the co-design of application and system through the performance analysis and optimization of the "target applications" that have been chosen by the advisory panel of MEXT as the priority social and scientific challenges, in cooperation with the counterpart agencies and the colleague teams in this project. The team also works with the co-design promotion team to develop the new algorithm and the implementation method. The optimization methodology is recorded and utilized by the following applications.

2.

Establishment of the application benchmark suites for system performance evaluation
The team develops and maintains the "mini-apps" that are designed to represent the same performance characteristics as the full applications from major computational science domains. It is designed to be compact and easy to run, and is made available in source code format, which is often not the case with the full applications. They are studied from various analysis angles and are executed for performance collection on supercomputers including K-computer, and are hoped to be used internationally as the standard tool for system performance evaluation. Collaborative research with the universities is conducted, aiming for the establishment of the future oriented system performance evaluation methodology.

3.

Application infrastructure R&D
The team, along with the R&D department of AICS, develops the application infrastructure including the libraries and frameworks which are important elements in maximizing the outcome of the users of post K-computer.
The team also leads the promotional activities to continue the research work done through the "Feasibility Study on Future HPC Infrastructures (Application Working Group)", extracting the social and scientific challenges to be solved by HPC during next 5-10 years.
Main Research Fields
Related Research Fields
Interdisciplinary Science & Engineering
Keywords
Co-design based on target applications
Establishment of the application benchmark suites for system performance evaluation
Application infrastructure R&D
Selected Publications
1.

Y. Kawashima, K. Hirao:
"Singularity Correction for Long-Range-Corrected Density Functional Theory with Plane-Wave Basis Sets"
The Journal of Physical Chemistry A, Vol. 121, No. 9, P. 2035-2045 (2017)

2.

Y. Kawashima, K. Sawada, T. Nakajima, M. Tachikawa:
"Nuclear quantum effect on the intermolecular hydrogen bond of acetic acid - phosphorous acid anion cluster: An ab initio path integral molecular dynamics study"
Journal of Computer Chemistry, Vol. 15, P. 203-209 (2016)

3.

Y. Nakamura, Y. Kuramashi, S. Takeda, A. Ukawa:
"Critical endline of the finite temperature phase transition for 2+1 flavor QCD around the SU(3)-flavor symmetric point"
PHYSICAL REVIEW D, 94, 114507 (2016)

4.

Yashiro, H., Terasaki, K., Miyoshi, T., and Tomita, H.:
"Performance evaluation of throughput-aware framework for ensemble data assimilation: The case of NICAM-LETKF"
Geosci. Model Dev. Volume 9, issue 7, Page 2293-2300 (2016).
Related Links
Lab Members
Principal investigator
Hirofumi Tomita

Team Leader
Core members
Yoshifumi Nakamura

Research Scientist

Seiya Nishizawa

Research Scientist

Yuji Sugita

Research Scientist

Seiji Yunoki

Research Scientist

Takahito Nakajima

Research Scientist

Yuichi Otsuka

Research Scientist

Jaewoon Jung

Research Scientist

Chigusa Kobayashi

Research Scientist

Hiroshi Ueda

Research Scientist

Makoto Tsubokura

Research Scientist

Keiji Onishi

Research Scientist

Yohsuke Murase

Research Scientist

Rahul Bale

Research Scientist

Naoki Yoshioka

Research Scientist

Soichiro Suzuki

Research & Development Scientist

Kazunori Mikami

Research & Development Scientist

Kiyoshi Kumahata

Research & Development Scientist

Kazuo Minami

Research & Development Scientist

Akiyoshi Kuroda

Research & Development Scientist

Shigetoshi Sota

Research & Development Scientist

Yuta Kawai

Postdoctoral Researcher

Koji Nishiguchi

Postdoctoral Researcher

Keigo Nitadori

Technical Scientist

Mamiko Hata

Technical Staff I

Hisashi Yashiro

Visiting Scientist

Kohei Fujita

Visiting Scientist

Masatomo Hashimoto

Visiting Scientist
Contact Information
7-1-26 Minatojima-minamimachi, Chuo-ku
Kobe, Hyogo
650-0047 Japan
Email: Email: htomita [at] riken.jp