RIKEN Center for Computational Science

AI-driven Drug Discovery Collaborative Unit

Unit Leader: Yasushi Okuno (Ph.D.)
Research Summary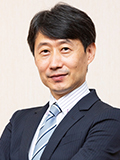 1.

Development of next-generation drug discovery technologies based on AI and Simulation

2.

Building an HPC/AI-driven research platform for life science

3.

Application of HPC/AI technologies to drug discovery and genomic medicine through collaborations with DMP RIKEN etc.
Main Research Fields
Medicine, Dentistry & Pharmacy
Related Research Fields
Informatics
Complex Systems
Interdisciplinary Science & Engineering
Keywords
Drug Discovery
Artificial Intelligence
Deep Learning
Supercomputer
Molecular Simulation
Selected Publications
1.

Araki M, Matsumoto S, Bekker G.J, Isaka Y, Sagae Y, Kamiya N, Okuno Y:
"Exploring ligand binding pathways on proteins using hypersound-accelerated molecular dynamics"
Nature Communications. 12:2793, 2021.

2.

Mizuta H, Okada K, Araki M, Adachi J, Takemoto A, Kutkowska J, Maruyama K, Yanagitani N, Oh-hara T, Watanabe K, Tamai K, Friboulet L, Katayama K, Ma B, Sasakura Y, Sagae Y, Kukimoto-Niino M, Shirouzu M, Takagi S, Simizu S, Nishio M, Okuno Y, Fujita N, Katayama R:
"Gilteritinib overcomes lorlatinib resistance in ALK-rearranged cancer"
Nature Communications. 12:1261, 2021.

3.

Saito Y, Koya J, Araki M, Kogure Y, Shingaki S, Tabata, M, McClure M, Yoshifuji K, Matsumoto S, Isaka Y, Tanaka H, Kanai T, Miyano S, Shiraishi Y, Okuno Y, Kataoka K:
"Landscape and function of multiple mutations within individual oncogenes invasive bladder cancer"
Nature. 582:95-99, 2020.

4.

Ono F, Chiba S, Isaka Y, Matsumoto S, Ma B, Katayama R, Araki M, Okuno Y:
"Improvement in predicting drug sensitivity changes associated with protein mutations using a molecular dynamics based alchemical mutation method"
Scientific Reports. 2:2161, 2020.

5.

Kanada R, Tokuhisa A, Tsuda K, Okuno Y, Terayama K:
"Exploring Successful Parameter Region for Coarse-Grained Simulation of Biomolecules by Bayesian Optimization and Active Learning"
Biomolecules, 10 (3) 482, 2020.

6.

Ikemura S, Yasuda H, Matsumoto S, Kamada M, Hamamoto J, Masuzawa K, Kobayashi K, Manabe T, Arai D, Nakachi I, Kawada I, Ishioka K, Nakamura M, Namkoong H, Naoki K, Ono F, Araki M, Kanada R, Ma B, Hayashi Y, Mimaki S, Yoh K, Kobayashi S, Kohno T, Okuno Y, Goto K, Tsuchihara K, Soejima K:
"Molecular dynamics simulation-guided drug sensitivity prediction for lung cancer with rare EGFR mutations"
Proc. Natl. Acad. Sci. USA. 116 (20):10025-10030, 2019.

7.

Okada K, Araki M, Sakashita T, Ma B, Kanada R, Yanagitani N, Horiike A, Koike S, Oh-Hara T, Watanabe K, Tamai K, Maemondo M, Nishio M, Ishikawa T, Okuno Y, Fujita N, Katayama R:
"Prediction of ALK mutations mediating ALK-TKIs resistance and drug re-purposing to overcome the resistance"
EBioMedicine, 41, 105-119, 2019.

8.

Nakaoku T, Kohno T, Araki M, Niho S, Chauhan R, Knowles PP, Tsuchihara K, Matsumoto S, Shimada Y, Mimaki S, Ishii G, Ichikawa H, Nagatoishi S, Tsumoto K, Okuno Y, Yoh K, McDonald NQ, Goto K:
"A secondary RET mutation in the activation loop conferring resistance to vandetanib"
Nature Communications. 9 (1):625, 2018.

9.

Uchibori K, Inase N, Araki M, Kamada M, Sato S, Okuno Y, Fujita N, Katayama R:
"Brigatinib combined with anti-EGFR antibody overcomes osimertinib resistance in EGFR-mutated non-small-cell lung cancer"
Nature Communications. 8:14768, 2017.

10.

Kawai R, Chiba S, Okuwaki K, Kanada R, Doi H, Ono M, Mochizuki Y, Okuno Y:
"Stabilization mechanism for a nonfibrillar amyloid β oligomer based on formation of a hydrophobic core determined by dissipative particle dynamics."
ACS Chemical Neuroscience. 11(3):385-394, 2020.
Related Links
Lab Members
Principal investigator
Yasushi Okuno

Unit Leader
Core members
Masateru Ota

Senior Scientist

Ryo Kanada

Senior Scientist

Yuta Isaka

Postdoctoral Researcher
Contact Information
7-1-26, Minatojima-minami-machi,
Chuo-ku, Kobe,Hyogo
650-0047, Japan
Email: yasushi.okuno [at] riken.jp