Cultivating careers in corporate and international research
Wonkyung Kang, Coordinator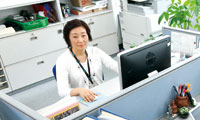 Corporate and International Relations Division, RIKEN Advanced Science Institute
What do you do at RIKEN?
I work as a coordinator in the Corporate and International Relations Division of the Advanced Science Institute.
How and when did you join RIKEN?
After graduating from my university in South Korea, I came to Japan to study at graduate school. Once I obtained my Master's and PhD, I moved to Imperial College London where I carried out research on insect viruses. Around that time I found out that a key researcher in this field, the late Susumu Maeda, was setting up a research laboratory in RIKEN, which is one of the research centers that I had admired during my student days. RIKEN also seemed attractive because there was a strong possibility to further develop my research there. I got in contact with Maeda and eventually joined RIKEN through its Special Postdoctoral Researchers (SPDR) Program, became a researcher and stayed.
How was the transition to life at RIKEN?
Laboratories at RIKEN are not only equipped with a wide range of facilities, but their staff also provides fully comprehensive technical support. My first position at RIKEN was as a researcher in the SPDR Program, which came with research funding, so I was able to focus on my research free of worry.
Please tell us about your research or other work at RIKEN.
My job currently involves providing support to research activities while making use of researchers' backgrounds. The merits of the Advanced Science Institute as a multidisciplinary laboratory for natural sciences are utilized to promote cooperation not only within RIKEN, but also to drive various kinds of research that goes beyond the realm of regular collaborative research. I also help with such collaborative activities, but my specific responsibilities are multifold because I also coordinate with foreign institutions, prepare written agreements, coordinate with various in-house departments and support personnel exchange.
What have been the highlights of your time at RIKEN so far?
I think it is the fact that I have taken a step forward from being a student to a researcher. When I worked as a postdoc in England, my only job was to conduct experiments, and so I somehow felt that I could rely on my laboratory boss to look after everything else. However, various things have happened since I started to work in my current post, such as my boss suddenly passing away, which pushed me to do things that researchers normally do, such as completing theses, peer reviewing, obtaining research funds, and teaching students. This has helped me improve as a researcher.
What is the best thing about working at RIKEN?
I have been able to secure a great environment where I can devote myself to research. There is an increased range and depth in research here, not only because of excellent personnel and facilities as well as ample research funding, but also because of the complete range of staff and departments that support research. RIKEN's reputation as a well-known research institute is also a major advantage when carrying out collaborative research in- and out-of-house. It is a huge benefit for researchers, particularly female researchers who have children, that RIKEN is very understanding about maternity leave and childcare, and there is a generous support system for working mothers.