Innovating human-interactive robots
Shinya Hirano, Research Scientist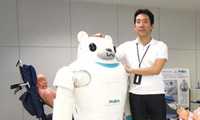 RIKEN Advanced Science Institute, Robot Control Research Team
What do you do at RIKEN?
I work as a researcher for the Robot Control Research Team at the Advanced Science Institute.
How and when did you join RIKEN?
I first joined RIKEN as a researcher at the Bio-Mimetic Control Research Center (BMC). When I completed graduate school I decided to further my research, which, along with a recommendation from my team leader, was the reason why I applied to join RIKEN. At the time, everybody had their hands full with the development of the human-interactive robot, RI-MAN, which was the forerunner of the nursing-care assistance robot, RIBA. I was full of admiration for my seniors who had created an almost human-sized robot from nothing. I am very lucky to be here because I have always been interested in robots and because robotics is a continually growing field.
How was the transition to life at RIKEN?
After I joined RIKEN, RI-MAN was put into use and, at the same time, work started on a robot similar to RI-MAN as part of a joint project between Tokai Rubber Industries and the Collaboration Center. This robot eventually became RIBA. An extremely large amount of work was involved in developing RIBA, which meant that I had to work late nights for an extensive period. We finally produced a press release in August 2009, after experiencing several setbacks. During these tough times we received support from various people at RIKEN who helped us in areas that we researchers are not so familiar with, such as arranging and ordering parts. I think it was a considerable job on our part because robots comprise of over 1,000 parts.
Please tell us about your research or other work at RIKEN.
We are currently in the midst of starting R&D on the next-generation RIBA. Although RIBA can successfully lift up a person in its arms, we realized during our research that there is still room for improvement. It is very important for the robot to not only lift up a person, but to lift up a person without putting a burden on them. Another key issue is RIBA's ability to adapt to different physiques. Naturally, nursing homes want a robot that is safe and can bear heavy weights, as well as being small and light. Based on these results, we have confirmed the general outline of the next-generation RIBA and are in the initial planning stages. In order to create a small-scale, light robot we are currently focusing on the component technology, and we are developing some of the important parts that will be used in the next-generation RIBA.
What have been the highlights of your time at RIKEN so far?
I specialize in electrical circuits, but in order to create a robot you need to have knowledge from a wide variety of specialist fields. It has been extremely useful to learn more about mechanical and control systems as part of RIBA's R&D. Making robots is a huge systematic process involving various people, which is why during the process I have been able to dramatically broaden my ability to interact with a wide range of people with different points of view.
What is the best thing about working at RIKEN?
Goals for teams and projects are of course set at RIKEN, but individuals are encouraged to pursue their own research and goals too. Although this working style is not usually adopted by regular companies, I believe it is attractive because it cultivates new discoveries and interesting research developments. RIKEN places a great deal of emphasis on basic science, so an engineering-based robotics field is extremely unusual. I am really happy that RIKEN's open-minded approach allows me to conduct research into robots that will create new benefits for society.
What would you say to other people considering joining RIKEN?
Unlike other companies and company-affiliated research centers, RIKEN allows you to pursue your own research themes. Overall, it is a very fulfilling place to work, as well as a great place to further your research.