Providing first-rate staff support and services
Yoko Endo, Chief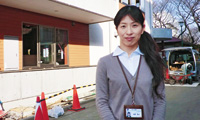 Welfare Section, General Affairs Division
What do you do at RIKEN?
I work at the Wako Main Campus in Saitama in the Welfare Section. My work includes running child-care facilities at RIKEN, managing the accommodation for RIKEN researchers and overseeing our staff welfare organization, the RIKEN Mutual Benefit Society (RIKEN Kyosaikai).
What attracted you to RIKEN?
At graduate school I majored in plant physiology and metabolism and wrote my thesis on the metabolism of purine alkaloids, such as caffeine and theobromine, contained in tea and cacao plant leaves. I really enjoyed performing experiments and data analysis, as well as engaging in scientific discussion. I was drawn to RIKEN because of its stimulating environment and the broad array of research that is carried out here.
What have been the highlights of your time at RIKEN so far?
One of the most challenging and rewarding projects I have been involved in was the establishment of the RIKEN Mutual Benefit Society. This organization originally catered to a small section of our staff, but in October 2011 it underwent major expansion to cover all 3,500 employees with an increased remit to manage welfare, mutual aid and social activities. The new organization provides a full spectrum of services to our employees by providing guidance on a variety of matters, including wages and insurance; monetary benefits relating to childbirth, marriage, and bereavement; personal development; accommodation; as well as hosting social activities ranging from sports to cultural activities.
The transition was a year in the planning, and involved soliciting opinions and ideas from various groups and establishing a working party comprised of volunteers to devise plans and formulate policy. This information was then communicated to all RIKEN staff through a series of open forums, and staff members approved the changes by ballot. After this it took another six months of hard work by a 25-strong committee to put in place the appropriate management structures and personnel before the changes could be implemented.
I have also recently taken on a new challenge to rebuild the child-care facilities at RIKEN, which were first opened in 2004 with places for 30 children. However, demand for this service increased year-by-year, so the center expanded to cater for a total of 60 places. My own experiences of child-rearing have been extremely valuable in this project in working alongside architects and child-care professionals to create an environment in the new facility that benefits both the children and staff. Provision of child care is one excellent example in which RIKEN are actively facilitating a smooth return to work for parents following maternity and paternity leave, and the center is part of RIKEN's vision to provide a workplace that allows both men and women to realize their full career potential whilst promoting a healthy work-life balance. This kind of support is crucial to RIKEN's goal of attracting and retaining top-class staff from Japan and overseas. In addition to the facility at the Wako Campus, there are also child-care centers at the RIKEN campuses in Yokohama and Kobe.
What is the best thing about working at RIKEN?
I particularly like the fact that everyone, even junior staff, can contribute their ideas and opinions freely, and that these are considered and may be adopted. I also like being able to interact and work with a wide variety of different people. Working in this environment helps to broaden my horizons.