Communicating research activities to the wider public
Chiharu Yamada, PR Officer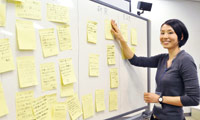 Research Promotion Division, RIKEN Yokohama Institute
What do you do at RIKEN?
I work as a PR Officer in the planning section of the Research Promotion Division at the RIKEN Yokohama Institute, which is located about 20 km southwest of Tokyo.
How and when did you join RIKEN?
I studied landscape design at university and then majored in information design. Following graduation, I worked in a range of information technology and PR-related positions. Although I found these positions interesting and fulfilling, I wanted a new challenge that would allow me to apply the skills I had learned as a student and the skills and experience that I had acquired in the workplace to a completely fresh field. This coincided with an increasing awareness of the importance of the public communication of science. On the strength of this I applied for a position in the research promotion office at RIKEN and joined the team at Yokohama in 2011.
How was the transition to life at RIKEN?
My introduction to work at RIKEN was actually something of a baptism of fire. After only three days, I was put in charge of producing a special pamphlet for the tenth anniversary of the RIKEN Yokohama Institute. While it was a challenge to learn a great deal of new information in a short space of time, my colleagues were very supportive and answered all of my many questions about how to get things done.
Please tell us about your work at RIKEN.
My main work involves promoting the activities of the RIKEN Yokohama Institute, which is actually a collection of seven separate centers. This requires working closely with my counterparts in each center to ensure that the overall individual character of each section is preserved, whilst communicating what the institute is doing in an overall corporate sense. My department coordinates a range of events and activities for researchers and local residents and promotes them externally through websites and brochures, as well as liaising with news organizations. We also disseminate the information internally through bulletin boards and advertising campaigns.
What have been the highlights of your time at RIKEN so far?
Although I have only been working at RIKEN for a year, I have already gained a lot of valuable experience. I have particularly enjoyed working on an initiative called the "Science Café" aimed at increasing public understanding of science, which RIKEN carries out with libraries in the Yokohama area. Based on focus group information, we designed promotional materials for the project and then revised them to create an even more appealing and effective campaign. The event was a success and we received many requests to hold more of them. The RIKEN researchers who joined in the event responded enthusiastically to questions from the public, and this inspires me to create an even better and more effective arena for their activities.
What is the best thing about working at RIKEN?
For me, the best thing about being at RIKEN is the chance to work alongside people with a diverse range of backgrounds and specialist skills. In addition to the research staff at RIKEN, I often need to collaborate with PR staff in other sections. It is very stimulating to work with talented and knowledgeable colleagues who have an in-depth understanding of the work carried out by their own centers.
What would you say to other people considering joining RIKEN?
I would highly recommend RIKEN as a place to work as it welcomes people with a wide range of skills and experience. This creates an atmosphere that is very accepting of people with different backgrounds and allows them to observe the work of RIKEN from a number of different viewpoints, which I think is very valuable.