Serving up a quality dining experience at RIKEN
Masamichi Kawasaki, Manager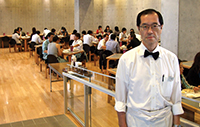 RIKEN Canteen, Tokyo Catering
What do you do at RIKEN?
Commissioned by the RIKEN Welfare Section, I have worked at the canteen since October 1996 and currently work as manager. Approximately 350 people use our canteen daily, including the lunch delivery service. Our food service is available throughout the day and our pub is open in the evenings three days a week. I contribute to RIKEN by ensuring that workers can relax during their breaks. My job is not just to provide meals, but also to maintain a high quality of food and a welcoming atmosphere.
Please tell us about how you manage the canteen.
As manager, my most important responsibility is to create a relaxing atmosphere; therefore, I pay attention to details and have implemented effective methods and policies. With so many people using our canteen every day, it is crucial that they are able to access fresh food as quickly as possible. To help our customers, I work to locate accessible food stations within the canteen. When diners come into the canteen I guide them to where they can find their food of choice and I carefully control the number of people in the hall so that there is no one waiting for seats, which could disturb the relaxing atmosphere.
How has the canteen changed in recent years?
In June 2012, the Welfare Section refurbished the canteen. This means that our canteen is more versatile, and we are now able to present food in more effective ways. The new counter table is the best option for those who visit the canteen on their own, while our terrace offers a great chance to dine al fresco in a relaxing natural setting.
How do you support people with different dietary requirements?
RIKEN has many workers with different religions and different dietary preferences. We offer vegetarian meals and other options for people with specific requirements. It may seem hard for non-Japanese people to understand what is available at the canteen due to the language barrier. However, once they visit us, they find our canteen has good options and start using our services regularly.
How does your service change during the day?
The work patterns of the staff at RIKEN are quite varied and this has an impact on the profile of visitors to the canteen throughout the day. For example, there tends to be more administrative staff using our facilities during lunch time, while more researchers, who often work until late, visit during the evening dinner time. We strive to ensure that no matter what their schedules, all of our diners can enjoy their meals in a relaxed and sociable atmosphere.
What do you enjoy about working at RIKEN?
I am proud that we have gained the trust of employees at RIKEN. I also enjoy getting feedback from visitors praising our attention to detail, including the queue management system as I mentioned earlier.
Serving food is not only about feeding people, but also providing visitors a relaxing and enjoyable experience with both delicious and nutritious meals. We will continue to contribute to the development of RIKEN by maximizing our strength in terms of good food and quality service.