Taking care of laboratory mouse strains
Chieko Yamada , Animal Technician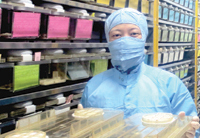 Experimental Animal Division , RIKEN BioResource Center
What do you do at RIKEN?
I work as an animal technician from Tokyo Business Service at the animal facility of the Experimental Animal Division in the RIKEN BioResource Center (BRC) based in Tsukuba city. I am in charge of the care and breeding of laboratory mice as well as the maintenance of mouse strains.
Please tell us about your work at RIKEN.
The BRC has over 700 live mouse strains and I am in charge of 80 strains of transgenic and knockout mice. Every time new mice are born, we check their genotype in order to maintain the genetic quality of the mouse strain. We manage the number of the mice we breed depending on the quantity of requests we receive from customers.
My usual morning task is to transfer mice to a new breeding cage and to give them food and water. If we need to distribute mice to our customers that day, I first assess the health condition of the mice and then I prepare the mice in containers for transportation to our customers.
In the afternoon, I wean baby mice and collect tissue samples for genetic testing. When the test results are ready, I select those mice with specific genotypes and establish new breeding pairs to maintain the strain.
How do you work as a team?
Under the supervision of one manager, there are 18 animal technicians working at the BRC and we are divided into two teams. Each team has a leader, who supervises individual tasks and manages the workflow of the team.
As team leader, I discuss the progress of our work, report any issues and share information with the other team leader as well as our manager in a fortnightly meeting. These meetings have helped us to smoothly manage the actual workflow of our teams.
At our weekly group meeting, the technicians in charge of each strain give a report on the progress of breeding. If there are any problems, we discuss how best to resolve them. At the weekly meetings, RIKEN researchers also give us technical advice on breeding and caring for mice.
We also organize workshops and use the materials provided by RIKEN researchers as reference materials. These meetings and workshops have provided us with great opportunities to share useful information and improve our skills in the field.
What are the challenges of your work? How do you handle them?
The healthcare of mice is of the utmost importance in my daily work and requires the greatest attention to detail. I carefully observe and examine mice to ensure that they do not have any injuries, illness, or ruffled fur.
I also take care of social interactions between male mice living in group housing.
What is the best thing about working at RIKEN?
I am very pleased and proud that the mice I have bred and cared for have made an important contribution to advancements in the biomedical sciences.
It has been a highly rewarding experience to be involved in breeding mice that play such a significant role in groundbreaking scientific research at research institutions around the world as well as RIKEN.