Exploring research opportunities at RIKEN
Philipp Gubler, Foreign Postdoctoral Researcher
How and when did you join RIKEN?
I am originally from Switzerland. Upon completing my PhD studies at the Tokyo Institute of Technology in early 2012, I joined RIKEN via the Foreign Postdoctoral Researcher (FPR) program.
What is your field of research?
I am a theoretical physicist working in the area of hadron physics. Specifically, I am interested in the "strong interaction" which governs the properties of nuclei at the center of atoms. As part of the Strangeness Nuclear Physics Laboratory led by Associate Chief Scientist Emiko Hiyama, my research explores the outcome of matter when it is heated to extremely high temperatures. Such hot matter is experimentally realized in heavy-ion collisions, during which we expect a new form of matter—the "quark-gluon plasma"—to emerge.
Although this subject is technically very challenging, I look forward to making real progress during my time here at RIKEN.
Why RIKEN?
The research environment provided here is very attractive, and there are several top-notch labs—both theoretical and experimental—at RIKEN led by distinguished scientists in the fields related to my research. Furthermore, the FPR position gives me a lot of freedom to pursue my scientific goals and generous grant support, which allows me to purchase necessary equipment and to attend international conferences.
What is the best thing about working at RIKEN?
People at RIKEN are very receptive towards new ideas and opinions, which gives me a sense of freedom. I really appreciate the regular exchange of ideas not only between me and my colleagues, but also with researchers from different labs with overlapping interests. This provides me with many opportunities to learn about techniques and tools used in other areas of research, and thus ideas about new approaches that could be developed for my own work.
What has been a memorable experience for you during your time at RIKEN?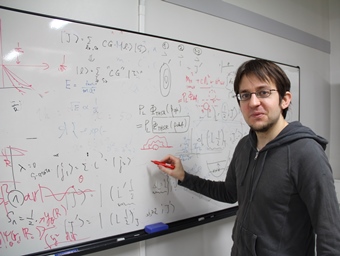 At an event called the "Discovery Evening" I was given the opportunity both to present my own work and to explain the latest developments in nuclear and particle physics to researchers from a variety of disciplines.
As I normally present my research only to people in my field, this was a unique experience which helped me to put the work done at our lab into a broader perspective and, at the same time, to find out a little bit more about the projects that other researchers at RIKEN are working on. All in all, it was a unique and illuminating experience.
Would you recommend the FPR program?
Absolutely. Coming to RIKEN is a great opportunity to pursue one's scientific goals and to enrich one's life experience by living in Japan. Life for non-Japanese researchers is facilitated by the many people at RIKEN who speak English, and there are people working full-time to help with daily life issues, such as making travel arrangements, or finding accommodation and helping with official documents and paperwork, as well as providing assistance with academic matters, such as grant applications. RIKEN is a supportive and very international institution, and a rewarding place to pursue one's research.