Uncovering nature's beauty with cellular simulations
Satya Arjunan, Postdoctoral Researcher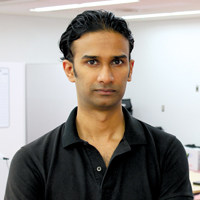 Laboratory for Biochemical Simulation, RIKEN Quantitative Biology Center
How did you join RIKEN?
During my PhD studies at Keio University, I developed a computational method that can rapidly simulate biological processes at the molecular scale. Koichi Takahashi, a collaborator of mine at Keio, encouraged me upon graduation to continue similar research in his laboratory. I accepted the invitation and in 2010 embarked on my postdoctoral career with a position at RIKEN. A year after I joined, the group was officially named the Laboratory for Biochemical Simulation at the newly established RIKEN Quantitative Biology Center (QBiC) in Osaka.
What is your current field of research?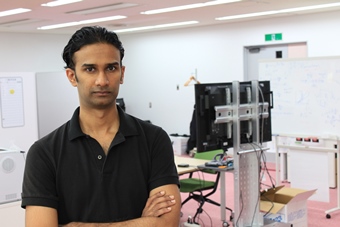 At QBiC, particle simulations of biomolecules remain my primary focus. Currently, I am looking at the interactions between individual molecules that affect the behavior of the whole cell. I use Spatiocyte—the particle simulator that I developed during my PhD—to build upon the experimental measurements obtained by my collaborators. This approach allows us to gain insight into the basic biological principles that drive bacterial cell division, amoebal chemotaxis and neuronal polarization.
Why were you drawn to RIKEN?
RIKEN has a worldwide reputation for excellence, so naturally I was keen to be a part of it. And Dr. Takahashi, our laboratory team leader, is known for his generosity in giving members of his research group the freedom to pursue their own scientific goals—be they to seek out new collaborations or to develop new approaches to research.
What is the best thing about working at RIKEN?
Labs at RIKEN continually collaborate with one another, creating a stimulating environment for research and learning. At QBiC, we are encouraged to exchange ideas and expertise with other labs to develop new technologies, which allows us to work at the frontier of the ever-evolving world of biology. I am sure that the knowledge and skills I have gained through these collaborations will help me in the next stages of my career.
What has been the highlight of your time at RIKEN so far?
I was able to simulate some of the observed dynamic patterns arising from the self-organization of molecules in a cell. It was an amazing experience to uncover a few of nature's complex, yet beautiful, processes. The results we obtained were also very useful for our collaborators in designing experiments to confirm the simulation's predictions.
What would you say to other people considering joining RIKEN?
The many English-speaking staff at RIKEN make life for non-Japanese researchers much easier, and I feel very comfortable here.
RIKEN will surpass the expectations of scientists looking for an exciting and rewarding career. Through schemes such as the International Program Associate (IPA) program and the Junior Research Associate program, RIKEN enables talented young researchers to pursue their interests in science and technology. Thanks to the IPA program in particular, I have had the opportunity to supervise and mentor a graduate student from Malaysia, my home country, who is conducting long-term research at RIKEN.