Promoting sound management at RIKEN
Kenji Ito, Auditor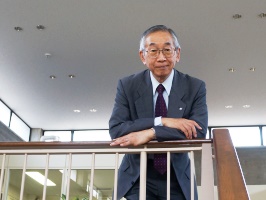 RIKEN Board of Executive Directors
What is your role at RIKEN?
As an auditor, I examine RIKEN's financial dealings and oversee its activities as a whole. In cooperation with other departments, such as the Auditing and Compliance Office, I audit the appropriateness of RIKEN's governance and management.
How did you join RIKEN, and what kind of support did RIKEN provide?
I have always worked in finance, and in a previous position at The Industrial Bank of Japan, I was in charge of financing the Riken Electric Wire Co., Ltd, a RIKEN business concern. During this period, I learned a lot about RIKEN and discovered the critical contribution it has made to Japan's rapid economic growth.
Though my knowledge is limited when it comes to the technical aspects of what RIKEN does, I thought that my management experience would be beneficial for the organization. Good management is a common challenge in any industry, and it is important and useful to review an organization's situation from an unconventional point of view.
Regarding the actual execution of audits, I receive the full support of the Auditing and Compliance Office. When I arrived at RIKEN, the staff in each office offered detailed explanations of their roles, helping me to gain the information and knowledge necessary for an effective audit.
What have you learned about RIKEN during your time here so far?
Due to the ongoing adverse financial situation in Japan, RIKEN has faced a number of difficulties. Although I have only been working here for four months, I have learned that RIKEN has approached these issues with a sincere attitude. Hence, I would like to express my respect for President Noyori's leadership and the support offered by all the managerial staff.
What is the best thing about working at RIKEN?
I was very impressed by RIKEN's outstanding research, including the discovery of element 113 and the studies of induced pluripotent stem (iPS) cells and plant breeding with heavy-ion beams. Researchers at RIKEN are often behind notable Japanese research findings. I am particularly excited about these achievements when the results are important and I know the researchers involved.
What is your impression of RIKEN's staff?
Researchers at RIKEN feel that they are able to make significant contributions to society and are extremely proud of what they do. RIKEN develops technologies for the production of important products used around the world—something that must make our administrative staff proud of working at Japan's best research institute. Administrative staff also take pride in their own work, especially since RIKEN's projects cannot be carried out without their support.
Prior to joining RIKEN, you worked in a credit rating company. How would you 'rate' RIKEN?
As more than 90 per cent of RIKEN's budget comes from government grants and subsidies, and RIKEN gains additional income from renting out large facilities, it is in fact unnecessary to rate RIKEN. But if RIKEN did need to temporarily borrow a large amount of money from a bank, its rating would be excellent.