Decoding the parent–infant bond
Kumi Kuroda, Unit Leader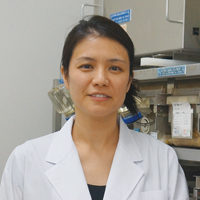 Kuroda Research Unit for Affiliative Social Behavior, RIKEN Brain Science Institute
How did you join RIKEN?
I obtained my PhD at Osaka University's Graduate School of Medicine, and in 2003 I visited RIKEN for the first time to attend the RIKEN Brain Science Institute (BSI) annual Summer Program for young neuroscientists. The following year I joined the Laboratory for Molecular Dynamics of Mental Disorders, headed by Dr Tadafumi Kato, as a special postdoctoral researcher.
What attracted you to RIKEN?
When I joined RIKEN, I felt that the BSI was the best place for neuroscience research in Japan and one of the top institutes worldwide—something that I still believe today.
The BSI rivals other research institutes across many criteria: facilities, budget, size, quality and maintenance of its laboratory animal services, and opportunities to meet world-class researchers. The institute also hosts academic forums, social events and retreats, which help to create a comfortable environment for researchers. This, of course, would not be possible without the institute's extremely efficient support system and friendly administrative staff. The BSI is like an academic's paradise. Put simply, I fell in love with it.
Please tell us more about your research at RIKEN.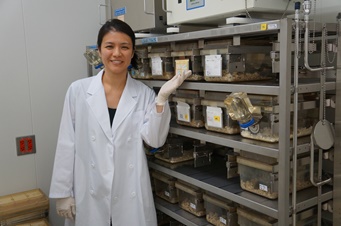 In my current research, I focus on understanding the neural mechanisms responsible for affiliation—or bonding—between mammalian parents and their infants, to serve families in difficulty.
Parents are equipped with an innate motivation to nurture their infants and guarantee their survival and well-being. Correspondingly, infants are born with attachment instincts, such as suckling, crying and following their caregivers. These drives are hardwired into the brain and refined through postnatal learning. My unit hopes to determine the neural mechanisms involved through a variety of techniques, including behavioral assays, brain-area mapping, neural circuit analyses and the identification of relevant biochemical molecules and intracellular signaling pathways.
What has been the highlight of your time at RIKEN so far?
Since joining RIKEN, I have had the opportunity to interact with eminent brain science academics affiliated with the BSI, including Founder and Special Advisor Masao Ito, Director Susumu Tonegawa, Special Advisor Takao Hensch and my former mentor Dr Kato. My research has been shaped by their leadership, as well as regular engagement with other principal investigators and researchers through formal and informal events. I am honored to be a member of an institute with such a prestigious history.
What would you say to other people considering joining RIKEN?
RIKEN offers a lot of support for men and women with children. For example, it runs an on-campus childcare facility called 'RIKEN Kids', where I enrolled my son for almost one-and-a-half years. Personally, I find that the key to an agreeable work–life balance is to plan your career goals and then trace back the steps required to achieve them, a strategy known as backcasting. Using this technique could help young researchers to balance their research ambitions with other responsibilities.