Finding hidden treasure in the genome
Piero Carninci, Deputy Center Director and Division Director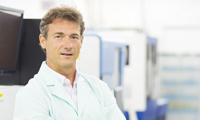 Division of Genomic Technologies, RIKEN Center for Life Science Technologies
Please describe your role at RIKEN.
I have held many roles at RIKEN, from postdoctoral researcher to staff researcher and now team leader of the Transcriptome Technology Team, director of the Division of Genomic Technologies and deputy director, all within the RIKEN Center for Life Science Technologies (CLST).
In my role as a team leader, I am committed to working with my colleagues to publish great science and to encourage their growth. As a division director, I am equally committed to ensuring the competitiveness of my division through the continued development of state-of-the-art technologies for genomics analysis and their application to research and discovery. And in my capacity as deputy director of the CLST, I support the general interests of the center as it makes its mark on the map of science, particularly through the uniform and successful internationalization of RIKEN.
In addition to these responsibilities, I am concerned with creating a stimulating environment for the professional and personal development of young Japanese researchers, as well as female researchers. I am similarly inspired by each of my many roles—from analyzing the scientific data generated by my team to overseeing the direction of the center.
Please describe your current research. Why is it important?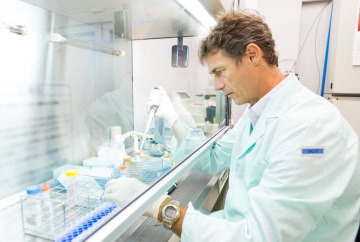 My research can be divided into two broad areas. On the one hand, I develop technologies to analyze the transcriptome—the transcribed part of the genome—and its regulation, including the relationship between the transcriptome and the epigenome. I believe that biological problems can be better addressed using large-scale approaches, such as genome projects, or better yet, the Functional Annotation of the Mammalian Genome (FANTOM) project that RIKEN initiated almost 15 years ago, which is now in its fifth incarnation—making it the longest-running international consortium. FANTOM 5 seeks to develop models of transcriptional regulatory networks for almost 200 human and mouse cell types.
A major discovery by the FANTOM initiative was that the majority of the genome is transcribed into noncoding RNAs. My other general area of research is related to these RNAs, many of which have very interesting and important regulatory functions. My team plans to screen their functions to better understand how regulation occurs in the cells of the human body. This field will have applications in basic science and human health in the future.
How did you become interested in your current field of research?
I develop technologies that can solve genome-scale problems to save myself from the hard work involved in using conventional technologies. And my interest in noncoding RNAs developed from an accidental discovery made while leading the gene discovery project at the former Genome Science Laboratory run by Yoshihide Hayashizaki at RIKEN. Using my methods of library preparation, we captured previously unobserved RNAs. After proving that these RNAs were really transcribed, and were not simply junk, I became interested in their function. I believe this is a new frontier in biology.
What excites you the most about your current research?
I am excited by the fact that we have discovered so many new dimensions of gene regulation that were unknown only a few years ago. With relatively few experiments, we are now able to comprehensively map functional elements in cells, producing information that was inconceivable at the time of the completion of the Human Genome Project in 2003.
What made you decide to become a scientist?
Science was always in the air at home. My mother had a degree in the natural sciences and both my father and grandfather were medical doctors. We moved to the countryside when I was ten years old, where I had a huge garden full of plants and animals. The garden became the laboratory of my youth.
I had lots of fun learning how to grow vegetables and I read a lot of books on agriculture that covered technologies, chemicals, insects, fertilizers, parasites and hybrid seeds, which included the rudiments of genetics. Choosing biology as my major at university was therefore an easy decision for me. The only other thing I was interested in was soccer, and I was almost tempted to become a professional soccer player in my later teens.
What do you think has been the most interesting discovery in your field in the last few years? How has it influenced your research?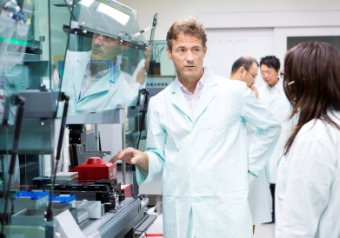 I am quite fortunate because the discovery that has excited me the most in the field is also one that I have contributed to—noncoding RNAs. In the technology arena, while I have not been directly involved in their development, I believe that next-generation sequencing is dramatically changing how we conduct biology. The technology is not only used to sequence genomes but also to detect gene expression, interaction and regulation, as well as for the three-dimensional analysis of the spatial conformation of the genome. It is a very dynamic area that has transformed science.
How and when did you join RIKEN?
I met Hayashizaki at a conference in Munich, Germany, in 1994. After listening to his amazing presentation, I approached him at his poster display and had a further one-hour discussion with him about his research. I then took the bold step of asking him if I could join his laboratory as a postdoctoral researcher to develop technologies for the analysis of the genome. The direct request proved successful and in 1995 I moved from Italy to RIKEN's Tsukuba campus.
How has being at RIKEN helped your research?
RIKEN has given me everything. As a researcher, I tend to identify myself by what I produce and how I can be useful to the field and the scientific community. RIKEN has given me the opportunity to fulfill my research interests, such as developing new technologies and applying them to make new discoveries. At RIKEN, I have the time and critical mass to achieve my goals, unhindered by short-term objectives.
Researchers at RIKEN have access to some of the most advanced equipment and resources in the world. What are some of the techniques and technologies that you use to conduct your research?
Apart from next-generation sequencing, we develop most of the technologies that we use ourselves. That is a core part of our work. Our technologies were mentioned in the "Nature Milestones in DNA Technologies" supplement published in October 2007.
What is the best thing about working at RIKEN?
Everyone at RIKEN is strongly committed to conducting the best science to improve society. RIKEN is at the center of the scientific world. When scientists come to Japan, they make certain to visit RIKEN and we regularly receive requests from outstanding foreign applicants who are eager to work with us.
What has been your most memorable experience at RIKEN?
There have been many, but probably the most memorable has been the birth of the FANTOM consortium and its later success. It began in the middle of the summer of 2000 with a two-week gathering of scientists—some very famous—pretending to 'annotate the transcriptome function'. We had no idea what that meant at the time. But surrounded by paddy fields, and after a few fun karaoke sessions, we emerged as a compact working group who then published our first Nature paper at the beginning of the following year.
What do you wish you had known before you came to Japan?
Foreigners should not feel held back by the language—although not being able to fluently read Japanese kanji characters can sometimes be limiting, a formal education in the Japanese language is not necessary if you are in search of an adventure.
I live as full a life here in Japan as I would back home. I enjoy riding my motorbike to the beach on the Miura peninsula in Kanagawa prefecture when I have a few spare hours on the weekend. I am also actively involved in sports, playing soccer with a team in the Kanagawa Division 1 league and regularly travel to Yokohama to watch Japan Professional Football League games and make new friends.
Please tell us about your professional and personal goals.
I would like to make more sense of some of the 'noise' in the genome, particularly related to noncoding RNA. I want to establish some principles on how these noncoding RNAs regulate genomic output at the chromatin level, and how we can use them to modify biological output. In other words, I want to discover some of the hidden rules behind this noncoding regulatory world.
I would also like to develop noncoding RNAs for use in research by laboratories across the world and clinical applications. For example, some noncoding RNAs, known as SINEUPs, enhance translation by protein-coding messenger RNAs. I am currently developing commercial applications for this functional class of noncoding RNAs through a RIKEN venture company.