Greetings from the President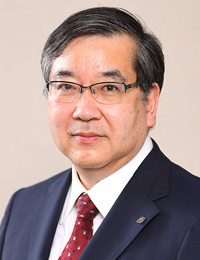 RIKEN was established in 1917, at a time when there was global recognition that it was science and technology that was the foundation of industrial development and the source of national power, based on the vision for a "national research institute" proposed by Eiichi Shibusawa, Jokichi Takamine and others. It is well known that with the background of ample research funds brought in thanks to the development of a method to make highly pure vitamin A by Umetaro Suzuki and others, RIKEN became well known for its ideal research environment, described as "a paradise for scientists," where researchers could engage in discussions freely and without reserve. Of course, we must not forget that RIKEN's path over the past century was not always a smooth one, and there were times when the institute was tossed by changes in society and faced adversities. Despite these challenges, the "RIKEN spirit" has been steadily passed on by researchers, and has become the foundation for RIKEN as a global institution today.
I myself entered university in 1976, and for the past 46 years my work has been devoted to university research and educational activities. I am an experimental physicist, and as a young researcher, when research funding was scarce, I remember being forced to build my own experimental apparatuses reusing discarded equipment, and seeing RIKEN as a place graced with a dazzling research environment. I am very proud to be able to join many outstanding researchers as the president of the institute and work toward the creation of new knowledge, pooling our strength together, but am also humbled by the heavy responsibility that comes with leading a research institute with such a long tradition.
For the past 10,000 years or so, we have been blessed to live in a time with exceptionally warm and stable climactic conditions, known as the Holocene epoch. With this stability as a foundation, civilization has evolved from hunting society to agricultural society, industrial society, and an information society. However, human society is now facing a major turning point as we confront global challenges that threaten our daily lives and future, such as the COVID-19 pandemic and climate change caused by global warming. What these challenges have in common is that the magnification of human activities by science and technology is a factor that cannot be separated from their occurrence. Collaboration on a world-scale, crossing borders, is essential for resolving them. However, as highlighted by the COP26 meeting held in Glasgow last November, the path to international cooperation is a steep and twisting one, and solving the challenges will not be easy. In addition, the world is now experiencing extremely and alarming situations involving military intervention by countries of other countries. These inexcusable events expose us to the reality that human civilization is still immature and unstable. What is particularly serious for scientists is that leading-edge technology is being used on the front lines of such conflicts, leading to unbearable destruction and misery on a wide scale. As scientists, we cannot turn a blind eye to this fact.
Nevertheless, I believe in the power of science to continue the quest to find universal truths. I say this because during my life as a researcher, I have experienced the joy of discovery that comes from looking at nature and encountering its essence. New wisdom creates arts for overcoming difficulties, and I believe that the excitement and empathy that emerge at the moment of creation can be a source of power for collaboration that transcends national borders. I believe that the creation of new knowledge, driven by the joy of discovery, will allow us to overcome difficulties and provide sustenance that will lead the earth and humankind toward sustainable development. However, we cannot achieve these results simply by waiting. The outcome will depend on whether or not we are aware of the impact of our research on the Earth and humankind from a broader perspective.
At RIKEN, I will dedicate myself to supporting the earnest activities of such researchers. I believe that collaboration across traditional academic disciplines—the very point of departure for RIKEN—is once again becoming critical. Collaboration should not be limited to natural sciences and engineering. Rather, it should extend to fundamental questions for humanity, such as what a person is and what society is. Advanced research is sophisticated and cutting-edge, but truly outstanding researchers should be able to inspire and empathize with one another, even if they are in different research fields. During my own career I have seen a number of times where this has happened. I would like to create places at the forefront of research at RIKEN where chemistry between outstanding researchers from different fields can lead to the creation of new knowledge that will contribute to the future of the earth and humankind. I will encourage scientists here to pursue the things that nobody but RIKEN can do, or things that RIKEN can do precisely because it is RIKEN.
I believe that the ideal situation is one where scientists themselves choose to pursue will naturally overlap with the research that is necessary for the future of all, and that mutual trust between science and society deepens and becomes ever more interconnected. Through RIKEN's activities, I hope to be able to convey to the world that building knowledge that leads to the creation of something out of nothing is a light that will bring about future growth for the earth and humankind. I hope to work with together to create new mechanisms to encourage a movement that is propelled by the joy of such discoveries. My ideal is that RIKEN will continue to be a world center of excellence, attracting outstanding researchers from around the world and developing into a place where we can nurture future generations of researchers, who are our future.
I look forward to working together to build a new chapter in RIKEN's history.
April 1, 2022
Makoto Gonokami
President, RIKEN
For more information, please see: