High-throughput glycan structure profiling on protein drugs by Erexim technology
RIKEN No.: 08077
Inventors
Koji Ueda (Laboratory for Genome Sequencing Technology, RIKEN)
Atsuhiko Toyama (Shimadzu Corporation)
Background
Recent studies demonstrated that both the potency and safety of antibody drugs are significantly affected by microheterogeneity of their glycan structures. As Guidance for Industry, Scientific Considerations in Demonstrating Biosimilarity to a Reference Product (Feb. 2012, FDA) pointed out, development of new analytical technology is urgently needed for the R&D and CMC of next generation antibody drugs, which allows quantitative assessment of glycan structure variations.
Summary
The Energy-resolved oxonium monitoring (Erexim) is a mass spectrometry-based analytical method to acquire quantitative and comprehensive profile of glycan structures on any glycopeptides in 10 minutes LC/MS/MS.
Trypsinized peptides are analyzed in a triple quadrupole mass spectrometer. Targeted glycopeptides are selected in Q1. Following collision induced dissociation (CID) in Q2, fragmented oligosaccharide ions (oxonium ions) were quantitatively monitored in Q3.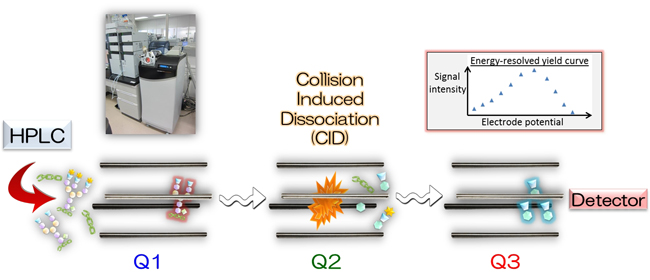 Fig.1: Principle of Erexim technology
From the Erexim analysis of commercial antibody drugs, significant lot-to-lot variation of glycan structures and existence of anaphylaxis-inducible non-human type glycans were identified. Our technology can effectively support the development of glycosylation-controlled biologics with enhanced potency and safety.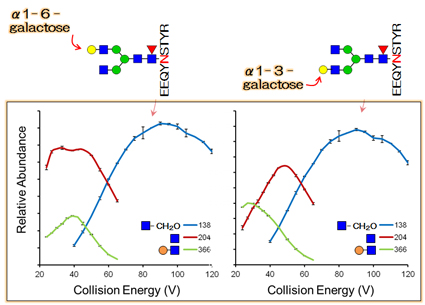 Fig.2: Representative Erexim curves acquired from structural isomers.
Merits
Quantifies 50 glycan structures in a single 10 minute LC/MS/MS run.
Single- or 96 well-formatted sample preparation kits are available.
Crude samples (cell culture supernatant, serum…) are measurable.
Dynamic range of > 104
Keeps glycosylation site information. (Measures glycopeptides rather than released glycans)
Applications
Expected users
Biopharmaceutical companies
Bio-venture companies

Academic research institutes
Objects to be measured
New biologics, Generic biologics, any purified or crude glycoproteins
Area of application
R&D area of next generation biologics including antibody drugs
CMC area of any biologics
References
1.

Japanese patent application No.2013-185373, US13/943130, KR10-2013-83647

2.

Toyama A, Nakagawa H, Matsuda K, Sato TA, Nakamura Y, Ueda K. Anal Chem. 2012 Nov 20;84(22):9655-62.

3.

Ueda K. Proteomics Clin Appl. 2013, In press.