Partnerships
Science today is becoming increasingly interdisciplinary and international, and RIKEN is playing a leading role in this process. We have a number of research and educational partners, as outlined below. To further strengthen partnerships, a new organization, the Cluster for Science, Technology, and Innovation Hub, was recently set up. We also have a Beijing office, Singapore office, and Europe office which support the expansion of our partnerships abroad,
Research Partnerships
International collaboration is a key element of RIKEN's research strategy, for today, science is a truly global endeavor. We have set up a number of research facilities overseas, and have agreements of MOUs with research institutes and universities domestically and abroad covering exchanges of researchers and the conduct of joint research, with the goal to strengthen institutional research collaborations and networking and hence ensure that RIKEN's research can be carried out efficiently. We also have partnerships with universities around the world to exchange personnel and contribute to the training of junior scientists
RIKEN has collaborative agreements or MOUs with more than 270 institutions overseas. In recent years, we have focused on forging institutional collaborations with research organizations including government-related bodies around the world with the goal of promoting global partnerships in science and technology as a leading Japanese organization. In addition to our facility in the United States, we have joint research centers or laboratories in Germany, China, India, and Malaysia. To expand our network, gather information about potential international collaborations, and to strengthen ties with researchers who have returned to their home countries or moved to another institute, we have established our liaison offices in Singapore, Beijing and Brussels (Belgium).
RIKEN-NCBS Joint Research Center
RIKEN-NTU Joint Research Centre
RIKEN-IMP Joint Research Center
RIKEN-XJTU Joint Research Center
RIKEN-Tsinghua Research Groups
RIKEN-SJTU Joint Research Laboratory
US West Coast Cjavascript:void(0)ollaboration Office
RIKEN BNL Research Center
MPG-PTB-RIKEN Center
RIKEN-Luxembourg Joint Research Labs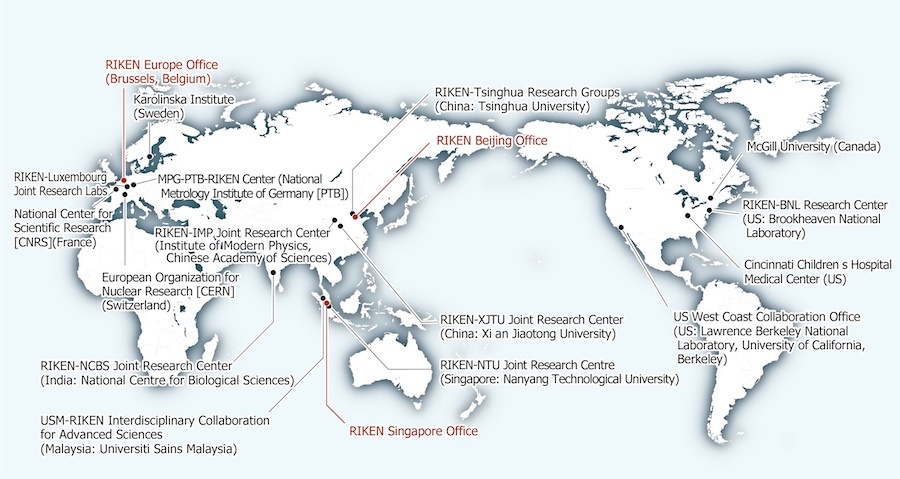 Comprehensive Cooperation Agreements/MOUs between RIKEN and Major Overseas Research Organizations
Asia
China
Chinese Academy of Sciences (CAS)
May, 1982
Shanghai Jiao Tong University (SJTU)
February, 2008
Xi'an Jiao Tong University (XJTU)
May, 2010
University of Science and Technology of China (USTC)
February, 2018
Korea
Korea Research Institute of Bioscience and Biotechnology (KRIBB)
April, 2006
Seoul National University (SNU)
May, 2010
Institute for Basic Science (IBS)
November, 2015
Taiwan
Academia Sinica
June, 2000
National Taiwan University
August, 2016
Malaysia
University of Malaya (UM)
September, 2011
Universiti Sains Malaysia (USM)
May, 2012
Singapore
Agency for Science, Technology and Research (A*STAR)
September, 2005
Nanyang Technological University (NTU)
September, 2011
National University of Singapore (NUS)
January, 2012
Indonesia
The Agency for the Assessment and Application of Technology of The Republic of Indonesia (BPPT)
September, 1989
India
Department of Science and Technology (DST)
December, 2006
Department of Biotechnology (DBT)
September, 2013
National Center for Biological Sciences (NCBS) Consortium
September, 2013
Thailand
Thailand National Science and Technology Development Agency (NSTDA)
February, 2011
America
Canada
McGill University
July, 2010
Oceania
Australia
Commonwealth Scientific and Industrial Research Organization (CSIRO)
May, 1984
Middle East
Israel
Weizmann Institute of Science (WIS)
July, 1996
Europe
Sweden
Karolinska Institute (KI)
January, 2004
UK
University of Liverpool (UoL)
January, 2010
Germany
The Max Planck Society (MPG)
June, 1984
France
Institut Pasteur (IP)
January, 1984
Centre National de la Recherche Scientifique (CNRS)
July, 1994
Université de Strasbourg
May, 1996
Switzerland
Swiss Federal Institute of Technology Zurich (ETH Zurich)
December, 2009
Educational Partnerships
In addition to research partnerships, RIKEN has always cooperated with universities on matters of research while also working to build closer ties by accepting their research students. In 1989, RIKEN took this another step by establishing Japan's first Joint Graduate School Program jointly with Saitama University.
At present, RIKEN is actively engaged in Joint Graduate School Programs with the thirty eight universities shown in the table below.
Domestic Graduate Schools with which RIKEN has joint graduate school program (as of April 2023)
| Graduate Schools | Year program started |
| --- | --- |
| Saitama University (Graduate School of Science and Engineering) | 1989 |
| University of Tsukuba (Graduate School of Science and Technology, Graduate School of Comprehensive Human Sciences, Graduate School of Business Sciences, Humanities and Social Sciences, Life Science Innovation degree program) | 1992 |
| Tokyo University of Science (Graduate School of Science, Graduate School of Science and Technology, Graduate School of Advanced Engineering, Graduate School of Engineering, Graduate School of Biological Sciences) | 1995 |
| Toyo University (Graduate School of Science and Engineering, Graduate School of Life Sciences,Graduate School of Interdisciplinary New Science) | 1997 |
| Tokyo Institute of Technology (School of Materials and Chemical Technology, School of Science, School of Engineering, School of Computing, School of Life Science and Technology, School of Environment and Society) | 1997 |
| Tohoku University (Graduate School of Science, Graduate School of Information Sciences, Graduate School of Medicine) | 1997 |
| Rikkyo University (Graduate School of Science) | 1998 |
| Chiba University (Graduate School of Engineering, Graduate School of Advanced Integration Science, Graduate School of Medical and Pharmaceutical Sciences, Graduate School of Medicine) | 1998 |
| University of Hyogo (Graduate School of Material Science, Graduate School of Life Science) | 1999 |
| Tokyo Denki University (Graduate School of Engineering) | 2000 |
| The University of Tokyo (Graduate School of Science, Graduate School of Agricultural and Life Sciences, Graduate School of Information Science and Technology, Graduate School of Frontier Sciences, Graduate School of Arts and Sciences) | 2000 |
| Yokohama City University (Graduate School of Nanobioscience, Graduate School of Medicine, Graduate School of Medical Life Science) | 2001 |
| Kyushu Institute of Technology (Graduate School of Life Science and Systems Engineering) | 2001 |
| Kobe University (Graduate School of Science, Graduate School of Medicine, Graduate School of System Informatics) | 2002 |
| Kyoto University (Graduate School of Biostudies, Graduate School of Medicine, Graduate School of Science, Graduate School of Informatics | 2002 |
| Nara Institute of Science and Technology | 2003 |
| Toho University (Graduate School of Science) | 2003 |
| Kwansei Gakuin University (Graduate School of Science and Technology) | 2004 |
| Niigata University (Graduate School of Science and Technology) | 2004 |
| Tokyo Medical and Dental University (Graduate School of Medical and Dental Sciences) | 2004 |
| Nagaoka University of Technology (Graduate School of Engineering) | 2004 |
| Osaka University (Graduate School of Medicine, Graduate School of Science, Graduate School of Frontier Biosciences) | 2005 |
| Hokkaido University (Graduate School of Engineering, Graduate School of Chemical Sciences and Engineering, Graduate School of Life Science, Graduate School of Science) | 2005 |
| Tokyo Metropolitan University (Graduate School of Science) | 2007 |
| Waseda University (Faculty of Science and Engineering) | 2007 |
| Gunma University (Graduate School of Science and Technology) | 2007 |
| Shibaura Institute of Technology (Graduate School of and Engineering and Science) | 2008 |
| Nagoya Universtiy (Graduate School of Bioagricultural Sciences) | 2008 |
| Keio University (School of Medicine/Graduate School of Medicine) | 2008 |
| Hiroshima University (Graduate School of Integrated Sciences for Life) | 2009 |
| Doshisya University (Graduate School of Science and Engineering) | 2009 |
| Gifu University (United Graduate School of Drug Discovery and Medical Information Sciences) | 2010 |
| Tokyo University of Agriculture and Technology (Graduate School of Engineering) | 2011 |
| Kobe Gakuin University (Graduate School of Pharmaceutical Sciences) | 2012 |
| Tokushima University (Institute of Biomedical Sciences) | 2012 |
| Wakayama University (Graduate School of Systems Engineering) | 2012 |
| Ochanomizu University (Graduate School of Humanities and Sciences) | 2014 |
| Meiji University (Graduate School of Science and Technology) | 2015 |
| Ritsumeikan University (Graduate School of Life Sciences) | 2017 |
| Kyushu University (Graduate School of Engineering) | 2018 |
| Juntendo University (Graduate School of Medicine) | 2018 |
| Shinshu University (Graduate School of Science and Technology, Graduate School of Medicine, Science and Technology) | 2021 |
| Okinawa Institute of Science and Technology School Corporation | 2021 |
| Kyorin University (Graduate School of Health Sciences) | 2022 |
| Gakushuin University (Graduate School of Science) | 2023 |
Overseas Graduate Schools with which RIKEN has joint graduate school program