Commercial Products
Scientific research gives rise to new discoveries and inventions, and to the development of innovative products by industry. However, no matter how great the discoveries and inventions, coming up with a commercially viable product is no easy matter. For this to happen, scientists and R&D technicians, as well as everyone else involved in product development, must work closely together. To overcome hurdles they must all focus on the product they are developing. Only then is it possible to give birth to new products that are truly useful to society.
PASESA Blood Pressure Monitor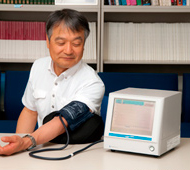 Laboratory: Organ and Body Scale Team
Company: Shisei datum
This device, which has received approval for sale in Japan, measures blood pressure, heart rate, and pulse pressure, while simultaneously displaying the condition of central arteries near the heart (AVI) and the stiffness of peripheral blood vessels (API). The AVI index was developed by RIKEN and Shisei datum, a private-sector company, based on new principles. The index is derived from an analysis of the pulse wave generated by conventional electronic blood pressure monitors, and can be used for the following purposes:
1.

Disease management, prevention, and analysis of treatment results in patients with diabetes, kidney disease, and lifestyle-related diseases

2.

Monitoring of circulatory disorders in children with Kawasaki disease and other disorders

3.

Checkups for lifestyle related diseases at medical facilities for healthy individuals
The PASESA blood pressure monitor has been installed or is being considered mainly in university hospitals, public health centers, and fitness clubs. It offers the following benefits in comparison to previous devices that required that the patient be in a supine position when measuring the stiffness of blood vessels.
1.

Can be used by anyone just like a conventional blood pressure monitor. It can be used for patients in wheelchairs, and in very old as well as very young patients.

2.

It provides a highly sensitive index for intervention (treatment)

3.

The technology can be easily adopted to home-use monitors.

4.

Can measure both central artery and upper arm (peripheral) arteries separately with just one cuff.

5.

Can simultaneously measure blood pressure, heart rate, and pulse pressure.
Nishina Haruka and Nishina Komachi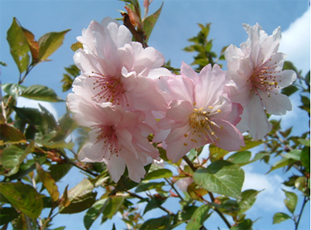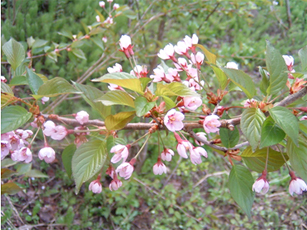 Laboratory: Radiation Biology Team
Company: JFC Ishii Farms
Branches from double-flowered Shungetsuka cherry blossom trees were irradiated with carbon ions. The branches were then grafted onto rootstocks, and natural fertilization took place between irradiated scions (branches). The seeds produced were then taken. In 2009, the seeds were planted, and two new cherry blossom varieties were discovered among the new trees.
The first, Nishina Haruka, is a Shungetsuka with large flowers, 4.1 to 4.2 centimeters in size. It is a double-flowered variety with a stable number of petals, ranging from 23 to 25.
The second is Nishina Komachi, a tree with small flowers, 1.3 to 1.4 centimeters. It is a single-flowered variety with five petals. It is an unusual cherry tree in that the flowers do not fully open, leaving them looking like paper lanterns.
Musaibo-kun Quick / Musaibo-kun SI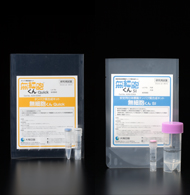 Laboratory: NMR Pipeline Methodology Research Team
Company: Taiyo Nippon Sanso Corporation
RIKEN's cell-free protein synthesis technology was commercialized as kits for producing stable isotope-labeled protein. The lineup consists of two products, "Musaibo-kun Quick" for expression test and "Musaibo-kun SI" for stable isotope labeling. Based on the unique technology developed for significant reduction of isotope dilution and scrambling, large-scale production of stable isotope-labeled protein can be achieved with high isotopic enrichment.
Moisture Gauge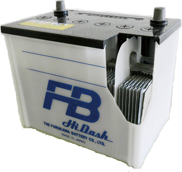 Laboratory: Supramolecular Science Laboratory
Company: The Furukawa Battery Co., Ltd.
Technical guidance was given to Furukawa Battery Co., Ltd. to develop a new moisture gauge using absorption spectrum measurement. This allowed cost reductions by optimizing the moisture in the battery plate and by cutting the amount of pasted active substance, as well as a reduction in the defective rate during assembly processes.
Amber-based Cosmetics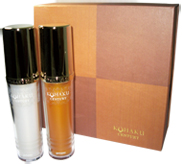 Laboratory: Molecular Ligand Biology Research Team
Company: Yamano Beauty Mate
Based on a contract from Yamano Beauty Mate, RIKEN elucidated the mechanism for the biofunction modulating properties and beauty effects of amber. The company subsequently incorporated amber into its product line.
Fluorescent Proteins Derived from Marine Organisms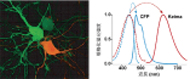 Laboratory: Laboratory for Cell Function Dynamics
Company:Medical & Biological Laboratories Co., Ltd. Amalgaam Co., Ltd.
In collaborative research with Medical & Biological Laboratories Co., Ltd. and Amalgaam Co., Ltd., RIKEN has discovered fluorescent proteins derived from marine organisms. By using Kaede (left), whose fluorescence properties can be changed with UV irradiation, or Keima (right), which has a large an extremely large Stokes shift, it is possible to conduct live imaging for a variety of purposes.
A Specialized Seed Spoon for Arabidopsis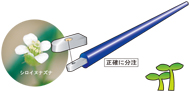 RIKEN developed a specialized seed spoon for Arabidopsis seeds in collaboration with Prescience Inc. and BioMedicalScience Inc. The new technology makes it possible to accurately measure groups of 50 or 200 seeds, reducing the waste of precious seeds.
Nishina Homare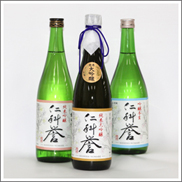 Laboratory: Radiation Biology Team
Company: Saitama Industrial Technology Center (SAITEC)
Three breweries in Saitama Prefecture have recently begun producing sake (Japanese rice wine) made with a yeast strain that was developed, using heavy ion beam mutagenesis, by the RIKEN Nishina Center for Accelerator-based Science in collaboration with the Saitama Industrial Technology Center (SAITEC). The three breweries have agreed to sell the new sake under the RIKEN brand name "Nishina Homare."
The three breweries are each selling different types of sake, and for connoisseurs, they are called Junmai Daiginjo, Junmai Ginjo, and Ginjo Honnama.
Nishina Otome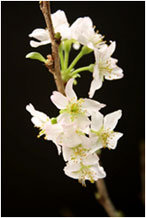 Laboratory: Radiation Biology Team
Company: JFC Ishii Farm
The Nishina Otome is a new breed of cherry blossom tree that blooms all year round. The breed was created using heavy ion beams at the RIKEN Nishina Center for Accelerated-Based Science. Unlike regular cherry blossom trees, Nishina Otome does not require a period of cold weather to trigger growth. As a result, the new tree is able to bloom all year round when cultivated indoors, and during autumn and spring when grown outdoors. Given sufficient exposure to low temperatures, it produces three times more flowers than the regular varieties, and its spring bloom lasts for twice as long.
HiTS (High Throughput Screening) Bio Microplate Reader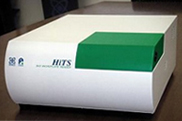 Laboratory: Antibiotics Lab., Advanced Science Institute
Company: Scinics Corporation
This 96-well customized bio microplate reader includes shaker, constant temperature, determination of absorbance and evaporation reduction as standard. This is an all-in-one system which incorporates dedicated software.
Olivia Pure White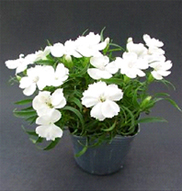 Laboratory: Radiation Biology Team
Company: Hokko Chemical Industry
Carbon ion beam irradiation using RIKEN's RI Beam Factory has created a new variety of dwarf dianthus. It has a uniform white flower with five petals and is perpetual perennial, and has outstanding branching. Its compact height of about 10 cm is perfect for the garden.
Nishina Zao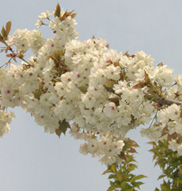 Laboratory: Radiation Biology Team
Company: JFC Ishii Farm
Carbon ion beam irradiation of a branch of the green-flowered cherry blossoms gyoikou using the RI Beam Factory of the RIKEN Nishina Center for Accelerator-Based Science induced a mutant with large flowers and changed the color of the flowers from the original green to yellow.
ELID Honing Method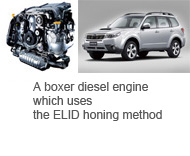 Laboratory: Materials Fabrication Laboratory
Company: Fuji Heavy Industries Ltd.
The ELID honing method is a new technology for processing automobile components. The method was developed as a finish processing technology for boring the cylinders of an automotive engine by applying the mirror-surface ELID Grinding Technique. This is the first ever application of the ELID honing method to the production of automotive engine components.
TERA Automatic Crystallization and Observation Robot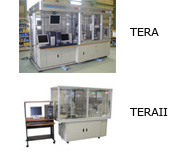 Laboratory: Structural Biophysics Laboratory
Company: Takeda-Rika Co., Ltd.
"TERA" is an all-in-one robotic system which automatically creates and manages the growth of crystals for analysis of protein structure using synchrotron radiation from the SPring-8 facility.
Heavy-ion Breeding Method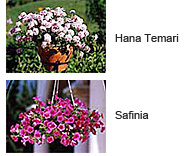 Laboratory: Plant Functions Laboratory, Beam Technology Division
Heavy ion beams were used to create better varieties by inducing mutation. On the left is Hana Temari (known as Vervena), whose flowers last a long time, and on the right is Safinia, which has a new color.