(canceled)ERATO International Symposium: Chemistry and Plant Biology
Considering the impact on the health of participants, this symposium is canceled due to the increased risk of the spread of coronavirus (COVID-19) infection in Japan.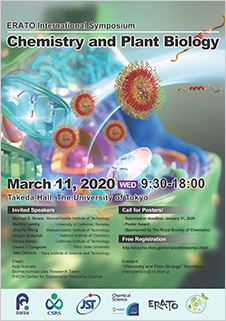 Chemistry and Plant Biology Symposium focuses the scientific boundaries between chemistry and plant biology, especially, researches on plant biology and biotechnology using chemistry and/or chemical methodology. The chemistry- and plant biology-related multidisciplinary research has recently been attractive and hot topics with involving various scientific communities. This might be because plant science has a great potential to contribute to "Sustainable Development Goals (SDGs)".
The aim of this symposium is to bridge the gap between chemistry and plant biology and to create international research community in a broad range of fields. We hope that the findings and connections in this symposium will contribute to innovative insights to plant biology, chemistry and overall sciences.
Date
March 11, 2020
Time
9:30-18:00 (Open:9:00)
Target
Researchers, Students, Industry, Government, Research Institute
Location
Takeda Hall (Takeda Building 5F), The University of Tokyo
Language
English
Participation Fee
Free
Details
Please refer to the following website for details:
ERATO International Symposium - Chemistry and Plant Biology -
Poser presentation Deadline: January 31, 2020
Participation Only:February 16, 2020
Contact
"Chemistry and Plant Biology" Secretariat
Email: chemplantbio [at] ml.riken.jp
Invited Speakers
Michael S. Strano (Massachusetts Institute of Technology)
Markita Landry (University of California, Berkeley)
Jing-Ke Weng (Massachusetts Institute of Technology)
Gregor Anderluh (National Institute of Chemistry)
Chiara Daraio (California Institute of Technology)
Daniel J. Cosgrove (Penn State University)
Taku Demura (Nara Institute of Science and Technology)