RIKEN Symposia: RIKEN BDR Symposium 2022
We are pleased to announce that the RIKEN BDR Symposium 2022 will be held online as follows:
We encourage the submission of abstracts for the poster session from participants around the world to increase opportunities for lively and informative exchange of views. A small number of poster abstracts will be selected for oral presentations.
We look forward to welcoming you to our online symposium in March 2022.
This symposium is a part of the RIKEN Symposium Series and thanks to the support from "Development, Growth and Differentiation".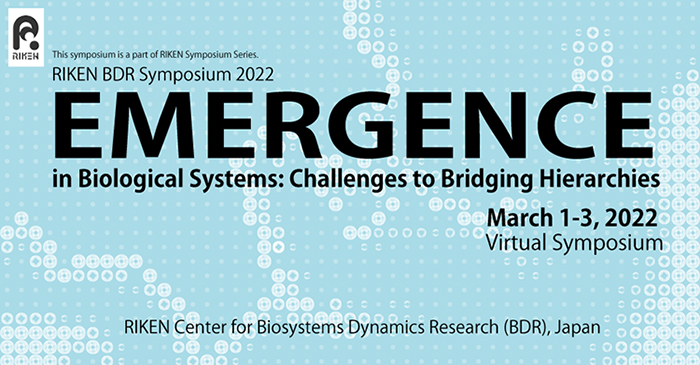 RIKEN BDR Symposium 2022 Emergence in Biological Systems: Challenges to Bridging Hierarchies
Date
Tuesday, March 1 to Thursday, March 3, 2022
Theme

Emergence in Biological Systems: Challenges to Bridging Hierarchies

Topics

The Origin of Life
Adaptation and Evolution
Intracellular Organization
Multicellular Systems
Brain Functions and Consciousness
AI, Computing and Robotics

Participants
Research Scientists and Graduate Students
Venue
Online
Language
English
Registration fee
FREE
Registration
Advance registration is required for all attendees.
RIKEN BDR Symposium 2022 [Registration and Abstract Submission]
Please refer to the following website for details:
RIKEN BDR Symposium 2022
Deadline

Abstract Submission: Sunday, January 16, 2022
Registration: Tuesday, February 15, 2022

*

Registration will close when the capacity of 500 is reached.

*

Priority will be given to the presenters.

Contact
RIKEN BDR Symposium 2022 Secretariat
RIKEN Center for Biosystems Dynamics Research (BDR)
Email: bdr-sympo2022 [at] ml.riken.jp