PSC Director Kazuo Shinozaki selected as "Hottest" (most cited) Researcher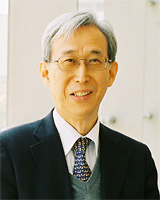 Thomson Reuters has published its list of "Hottest Researchers of 2011," which is a top-ten ranking of researchers with the most number of Hot Papers (highly cited papers) in 2011. Dr. Shinozaki came in at No. 5 for 11 research papers looking at functional genomics and stress responses, acquired resistance and other regulatory functions in Arabidopsis and other plants. Dr. Shinozaki was the only Japanese researcher selected as a Hottest Researcher this year.
Definition of a "Hot Paper"
Thomson Reuters determines Hot Papers from data in its Web of Science®, database of academic journals, using papers published in a two-year period (2010 and 2011 in this case) and most cited for the last two months of the previous year. An analysis is carried out for key scientific areas, and the top 0.1% of papers in that field are designated Hot Papers.