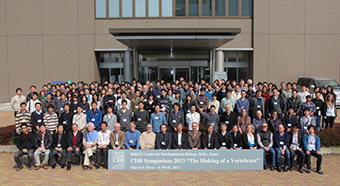 The RIKEN Center for Developmental Biology (CDB) held its 11th annual symposium on March 4–6 in the CDB Auditorium. More than 180 scientists from around the world met to introduce their work and discuss new developments relating to this year's theme, "The Making of a Vertebrate," echoing the title of Peter Lawrence's famous text on fly development. Topics ranged from discussions of the evolutionary roots of the vertebrate lineage to distinct features of vertebrate embryology.
This year's event was organized by Shin Aizawa and Shigeru Kuratani of the CDB and Denis Duboule of the University of Geneva and EPFL (Switzerland). In addition to the three days of invited talks, there were nearly 100 poster presentations and ample time for relaxed discussion. More than 10 international participants received travel support through the CDB travel fellowship program.
The CDB symposium series, launched in 2003, was established as a forum for addressing diverse aspects of developmental and regenerative biology, and aims to promote the free, timely and borderless exchange of research achievements.