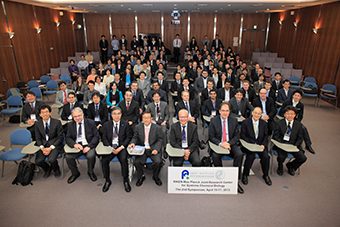 On April 16-17, 2013, the second joint symposium of the RIKEN-Max Planck Joint Research Center was held at the RIKEN Wako campus, aiming to promote collaborative research in systems chemical biology.
The center aims to become a leading world institution in the area of systems chemical biology through collaborative research, based on the contributions of Director Herbert Waldmann of the Max Planck Institute for Molecular Physiology, Director Peter Seeberger of the Max Planck Institute for Colloids and Interfaces, Director Hiroyuki Osada of the RIKEN-Max Planck Joint Research Center, and Group Director Naoyuki Taniguchi.
President Ryoji Noyori and Minister Dr. Lutz H. Görgens of the German embassy in Tokyo made opening remarks at the symposium, looking back at the history of mutual cooperation between the two countries and institutions and looking forward to even greater partnerships. This was followed by research presentations and active discussions, with the participation of 30 members of Max Planck Institute from Germany and 145 members from RIKEN.
In the evening of the first day, RIKEN Executive Directors Maki Kawai and Kenji Oeda, and Director Kohei Tamao of the RIKEN Global Research Cluster were invited along with 60 participants of the symposium to the official residence of Minister Stefan Herzberg of the German embassy. There, the research activities of the RIKEN-Max Planck Joint Research Center were introduced, followed by discussions leading to deeper exchanges between the members from RIKEN, the Max Planck Institute, and others.
The symposium brought high hopes for further boosting collaborative research in chemical biology.