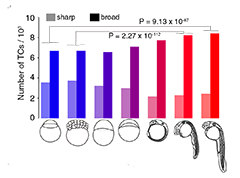 A large study conducted by institutions from 7 countries, including the RIKEN Center for Life Science Technologies, has revealed previously unknown promoter features involved in the regulation of gene expression.
Using Cap Analysis of Gene Expression (CAGE), a technique developed at RIKEN to map RNA transcription start sites and their promoters, the researchers mapped the transcription initiation events at the single nucleotide resolution, across 12 stages of zebrafish development.
Their study reveals genome-wide rules of core promoter usage, structure and dynamics, key to understanding the control of gene expression during vertebrate development.
The study is published in the journal Genome Research, doi:10.1101/gr.153692.112