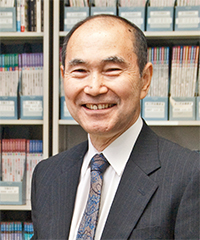 On December 16, Katsuhiko Mikoshiba, leader of the Laboratory for Developmental Neurobiology at the Brain Science Institute, was presented with the French Legion of Honour for his notable achievements in the field of brain science and his contributions to cultural and scientific exchanges between Japan and France.
Mikoshiba, who currently studies how the brain develops, focusing in particular on the role of calcium in cellular communication. The award was given partly for his discovery in 1976 of the IP3 receptor, which was found to play an important role in many biological functions such as body development and brain plasticity.
The award was presented by French Ambassador Christian Masset at a special ceremony held at the French embassy in Tokyo.
The Légion d' honneur (Legion of Honour), which is France's highest award, was established in 1802 during the reign of Napoleon Bonaparte. It has been awarded to 1,500 non-French citizens, with approximately 10 percent being Japanese.