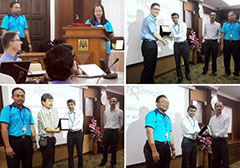 The School of Biological Sciences (SBS) at Universiti Sains Malaysia (USM) recently hosted the first Bioinformatics workshop to be organised within the framework of a partnership between RIKEN and USM.
USM and RIKEN have been partners since 2011, with the creation RIKEN-USM Joint Research Unit. Japanese and Malaysian researchers working in the unit are conducting research to isolate novel, biologically active compounds from plants from Southeast Asia, in order to develop new drugs for the treatment of tropical diseases. Their activities also include building a database of chemical compounds from tropical plants and determining target molecules for these compounds. The database is already accessible on the internet and currently lists 200 plant species.
The Bioinformatics workshop, which took place on December 16-20, 2013 at USM provided participants with opportunities for hands-on practice and introductions to a wide range of topics, such as the use of web-based resources, next generation gene sequencing methods, gene prediction and functional analysis, RNA sequencing and analysis and metabolic pathway reconstruction.
"We hope that this bioinformatics workshop can be made into an annual event, encouraged by the overwhelming response that we received," said Professor Dr. Amirul Al-Ashraf Abdullah, Deputy Dean (Research) Associate of SBS.
As part of the RIKEN-USM partnership, more than 10 students from USM have completed or are currently conducting their PhD research projects at RIKEN, as International Programme Associates (IPA).
"It is really an honour for USM to have a world class research institute such as RIKEN as its partner," says Dr. Sudesh Kumar, coordinator for the RIKEN-USM partnership."USM would like to strengthen this partnership with more joint activities such as workshops, research trainings, technology transfer and other educational events", he adds.
(Pictures courtesy of USM Press Office)