New partnerships in Russia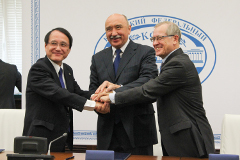 On October 27, RIKEN Preventive Medicine & Diagnosis Innovation Program Director Yoshihide Hayashizaki traveled to Kazan, capital of the Russian Republic of Tatarstan, to sign a memorandum of understanding for cooperation in the area of preventive and diagnostic medicine with two Russian institutions—Kazan Federal University and Tatarstan Cancer Center.
In the memorandum, the three institutions pledged to share their clinical research and R&D resources to achieve innovative research results, beginning from genomic research including studies on the genetic mechanisms of cancer, with a view to expanding into other areas such as diagnostic tools for infectious diseases.
Commenting on the agreement, Dr. Hayashizaki said, "We are very happy about this collaboration and hope to work with our new partners to develop new technologies that we hope will eventually be used to improve the lives of patients and the health of communities."