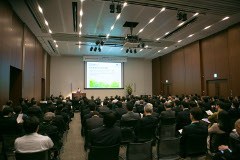 On April 22, alumni and current members of RIKEN's SPDR postdoc program, along with former and current members of the screening committee and people with ties to the program gathered in Tokyo for an afternoon symposium celebrating the first quarter century of the program.
The event began with words of welcome by RIKEN President Hiroshi Matsumoto and congratulatory messages by Yutaka Tokiwa, Director-General of the Research Promotion Bureau of the Ministry of Education, Culture, Sports, Science and Technology and by Nobel laureate Masatoshi Koshiba, Chairman of the Board of Directors of the Heisei Foundation for Basic Science, who served as the first chair of the SPDR screening committee.
Following a presentation on the history of the program by Executive Director Shigeo Koyasu, two speakers from outside RIKEN gave their views on the importance and challenges facing the program. First, Professor Yasuhiro Iye of The University of Tokyo talked about recent trends in systems for young researchers, and then Tadashi Onodera, Chair of KDDI Corporation, a major telecom company, talked about the importance of the SPDR program for nurturing talent for industry. They both emphasized the importance of cooperation between academia and industry.
The afternoon's program then moved on to three lively presentations by alumni of the program. Professor Yumiko Saga of the National Institute of Genetics, who was one of the first SPDRs, talked about her current research, on mouse developmental genetics, which is based on technology that was developed at RIKEN. Hideaki Tsuru from Honda R&D Co. Ltd., who was a member of the program in its early years, talked about how the three years he spent as an SPDR gave him many of the skills that he has used in his later work doing development work at Honda. And finally, Yousoo Kim, who is now a chief scientist at RIKEN, gave a fun talk, with many humorous anecdotes, talking about how as a chief scientist, his work is still being supported by the SPDRs in his own lab.
The reception that followed featured a "Kagami-biraki" ceremony, where some of the participants broke open a barrel of Japanese sake for the rest of the participants to share. The sake, in fact, was Nishina Homare, a special variety that uses brewer's yeast that was bred using the heavy ion accelerator facility at the Nishina Center by Tomoko Abe, a former SPDR who attended the event. This was followed by a number of short talks by people who had participated in the program, telling about their experiences and how the program had been valuable for their subsequent careers.