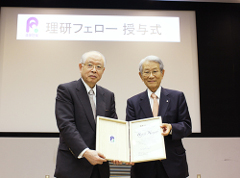 On June 16, a ceremony was held on the Wako campus to award former President Ryoji Noyori with the title of RIKEN Fellow. This award, which has only been given out once before—to RIKEN Brain Science Institute Director Susumu Tonegawa—is intended to honor individuals with an impressive record of scientific achievements who can contribute to the further development of RIKEN.
In presenting the award, President Matsumoto praised Noyori for his leadership of RIKEN from October 2003 to March 2015, focusing on the Noyori Initiatives that he put into place, and mentioning in particular two large-scale infrastructural projects—the K computer and the SACLA x-ray free electron laser at the SPring-8 facility—that were developed during Noyori's tenure.
In his own address, Noyori remembered some of the highlights of his tenure—the visit by the Emperor and Empress in 2006, the discovery of element 113, and the recent launch of the first clinical research using iPS cells—and spoke of how he looks forward to seeing the further development of RIKEN under Matsumoto's new Initiative for Scientific Excellence and the 100th anniversary to be celebrated in 2017.